Just a few new beers in this week but they are quality! Dogfish Head, Birra Del Borgo & Nomad bring us an amber inspired collaboration, and for those of you into sours we have Boons Black Label - a spin off of Mikkeller & Boons Bone Dry Collab.
Available in store and online.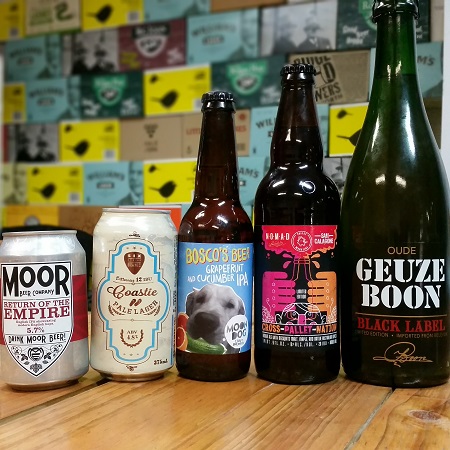 --- QUICK LIST OF NEW BEERS ----
(To purchase any new beers online head to Latest Arrivals)
Nomad / Sam Calagione Cross Palle Nation American Amber Ale - NEW!
Boon Black Label Oude Geuze - NEW!
Moon Dog Bosco's Beer Grapefruit & Cucumber IPA - NEW!
Six String Coastie Pale Lager - NEW!
Moor Beer Return of The Empire English IPA - NEW!
---- NOW POURING ON GROWLERS ----
EPIC BROOKLYN IPA 6.4% ABV
Brooklyn a newly released NZ hop, the first NZ hop to join the One Trick Pony series. Brooklyn is named after an area where hops are grown in NZ, and has been selected from the 'Hops With A Difference' programme. Parentage is from Southern Cross, and has characteristics of intense fruit, citrus, resinous pine, perfect for IPA'S.
Squealer Fill:$23
Growler Fill:$44
Next on tap:
New England Pale Ale
Epic Thunder IPA
4 Pines Fresh In Season IPA
Merchant Brewing Earl Pear Blonde Ale
---- FULL LIST OF LATEST BEER ARRIVALS ----
Wednesday 2th April
Batch Brewing American Pale Ale
Batch Brewing West Coast IPA
Mornington Pale Ale
Mornington Brown Ale
Panhead Super Charger APA
Panhead Blacktop Stout
Panhead Lola Deville Saison
Pirate Life IPA
Pirate Life Throwback Session IPA
Pirate Life Pale Ale
Gouden Carolus
Gulden Draak
Harviestoun Engineers Reserve
Kwak
Leffe Brune
Leffe Tripel
Ola Dubh 16
Beersel Oude Gueuze
Beersel Oude Kriek
Hoegaarden Forbidden Fruit
Desperados
Australian Brewery All Start IPA
Maisels Weisse
Friday 15th April
Riverside 69 Summer Ale
Riverside 77 IPA
Riverside Othello's Curse
Anchor Steam
Anchor Liberty
Nomad / Sam Calagione Cross Palle Nation American Amber Ale - NEW!
Boon Black Label Oude Geuze - NEW!
Moon Dog Bosco's Beer Grapefruit & Cucumber IPA - NEW!
Six String Coastie Pale Lager - NEW!
Six String Dark Red IPA
Franziskaner Kristal
Hacker Pschorr Gold
Hacker Pschorr Kellerbier
Hacker Pschorr Weisse
Paulaner Salvator
Schneider Tap 6 Aventinus
Stiegl Goldbrau (bottles / cans)
Stiegl Grapefruit Radler
Brooklyn Brown Ale
Brooklyn Lager (bottles / cans)
Holgate Temptress Porter
La Trappe Tripel
Mt Goat Fancy Pants
Mt Goat Summer Ale
Newstead Session Ale
Stone & Wood Pacific Ale
Deschutes Black Butte Porter
Deschutes Hop Henge
Deschutes Chain Breaker White IPA
Deschutes Fresh Squeezed IPA
Deschutes Inversion IPA
Deschutes Mirror Pond
Deschutes Obsidian Stout
Deschutes Pine Drops IPA
Deschutes Red Chair Northwest Pale Ale
Deschutes River Ale
Stone IPA
Stone Cali Belgique
SixPoint Bengali Tiger
SixPoint Sweet Action
SixPoint Resin
Moor Beer Return of The Empire English IPA - NEW!
Tuatara Double Trouble
Tuatara Nui
---