For 2 years in a row Pirate Life Double IPA has taken the top spot in the Ultimate Top 50 Beers List (2017 and 2018).
If you have not seen the Australia's Ultimate Top 50 Beer list you can view it here. The list is a combination of the world's four leading top 50 beers lists from RateBeer, Beer Advocate, Untappd and GABS Hottest 100 Aussie Craft Beer poll. When combined the Ultimate Top 50 Beer List provides a more holistic view of Australia's best beers by removing the bias and nuances associated with each list.
A Bit About Pirate Life
Pirate Life Brewing launched in 2014 with a big bang and have grown quickly in popularity. Their core range (available year round) is made up of the following beers:
Generally speaking Pirate Life do not put many of their seasonal / specialty releases in cans. These tend to be keg only releases so your best bet is to visit craft beer bars to try some of their specialty releases.
The Pirate Life team are bold and brash, always teetering on the edge and their beers reflect this. They make no compromise on quality and so it is not a surprise they have taken out the top spot, as well as had three of their other beers make the Ultimate Top 50 Beer list (IPA and Mosaic IPA at equal 14th and Pale Ale at 23rd). They also make no excuses for their beers being bold and typically hop forward.
Vital Stats of Pirate Life Double IPA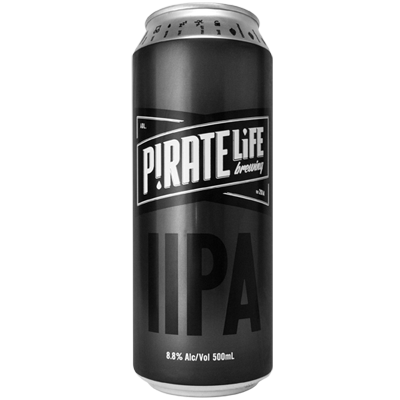 Style: Double IPA / Imperial IPA
ABV: 8.8%
State: South Australia
Year of first release: 2015
Packaging format: 500ml can or 50 litre keg
Tasting notes:
Introducing the Pirate Life IIPA
Crafting great beer is all about balance. At one end of the scale, if you're brewing a delicate Western European lager, you have to ensure that the four ingredients work in harmony. These more delicate styles take incredible skill to brew well as there''s nowhere to hide any miscalculations or mistakes throughout production.
Launching to the almost extreme opposite, the realm of IIPAs, balance, surprisingly, is still a defining factor. Instead of delicacy in balance, it''s now big flavour in balance.
Simplistically, to achieve a big flavourful IIPA you need: Big Malt + Big Hops + Big Fermentation.
It's a bit of complicated symbiosis between these three requirements and each of these three provide multiple elements. The malt provides the complex spectrum of sugars for fermentation as well as the main structure and body of the beer. The hops contribute bitterness to balance the malt sweetness as well as resinous piney flavours and juicy fruity-citrusy aromas. The fermentation provides us with a big hit of fun juice (ethanol) and the vast array of incredibly important characterful aroma and flavour compounds.
Not sure if that was too far off track, anyway, what you needed to take away from that was: Pirate Life IIPA is a big beer with big delicious fresh flavours that we hope you will enjoy by sticking it in your big mouth. Peace.
Featuring Centennial, Columbus, Simcoe, Mosaic hops, 120 IBUS.

Beer Ratings
At time of writing this article Pirate Life IIPA had the following scores from each of the 4 different platforms:
RateBeer Scores
Overall 98 out of 100
Style 95 out of 100
Untapped Score
4.1 out of 5
Beer Advocate Score
4.22 out of 5
GABS Hottest 100 Position
13th out of 100
Interesting Facts About Double IPAs
- Double IPA and Imperial IPA are interchangeable terms used to describe an IPA which is higher in alcohol, approximately between 7.5-10%
- Double IPAs can also be taken to the next level when a Triple or Quadrupel IPA is brewed
- The style originated out of the USA around the late 1990's
- Double IPAs and American Barleywines can sometimes share very similar characteristics and the style line can be blurred. Generally a Double IPA will be an intensely hoppy, very strong pale ale without the big maltiness and/or deeper malt flavors of an American barleywine.
Special Offer
To try some Pirate Life Double IPA and get $5 off use code PIRATE when placing an order online. Click here to place an order.
Available as a single 500ml can, 4 pack or case of 16. And with 3.5 standard drinks per can a case of 16 x 500ml cans is equivalent to 56 standard drinks - definitely not advisable to have too many in the one sitting!
If you would like to know more about IPAs we recommend reading this article.
---