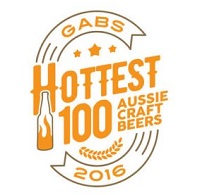 The Local Taphouse / GAB's Hottest 100 Australian Craft Beers 2016 was once again held on Australia Day in 2016.
Each year the poll attracts thousands of craft beer loving voters who put in their selections for their favourite Australian craft beers of the year. Looking over the list we have featured 82 of the top 100 beers in bottles or on keg at some stage - not bad for one bottleshop!
Congratulations to Stone & Wood's Pacific Ale - taking out top spot for the second year in a row. Full list below.
1. Pacific Ale - Australian Pale Ale - Stone and Wood Brewing Co
2. IIPA - Double IPA - Pirate Life Brewing
3. Hop Hog - American Pale Ale - Feral Brewing Company
4. XPA - American Pale Ale - Balter - NEW
5. IPA - American IPA - Pirate Life Brewing
6. Little Dove - American Pale Ale - Gage Roads Brewing Co - NEW
7. Pale Ale - American Pale Ale - Pirate Life Brewing
8. Crankshaft - American IPA - BentSpoke Brewery
9. Former Tenant - American IPA - Modus Operandi Brewing Co
10. Pale Ale - American Pale Ale - 4 Pines Brewing Co
11. IPA - American IPA - Fixation Brewing Co.
12. War Hog - American IPA - Feral Brewing Company
13. Beechworth Pale Ale - American Pale Ale - Bridge Road Brewers
14. 150 Lashes - Australian Pale Ale - James Squire
15. Pale Ale - American Pale Ale - Little Creatures
16. Newtowner - Australian Pale Ale - Young Henrys Brewing Company
17. Indian Summer Ale - Australian Pale Ale - 4 Pines Brewing Co
18. Kolsch - Kölsch - 4 Pines Brewing Co
19. Barley Griffin - Australian Pale Ale - BentSpoke Brewery
20. Throwback IPA - IPA (Specialty) - Pirate Life Brewing
21. Sonic Prayer - American IPA - Modus Operandi Brewing Co
22. Taco - Specialty Beer - Two Birds Brewing
23. India Red Ale - American IPA - Prancing Pony Brewery
24. Golden Stout Time - Sweet Stout - Big Shed Brewing
25. Korben D. - Double IPA - Akasha Brewing Co
26. Single Fin - British Golden Ale - Gage Roads Brewing Co
27. Three Sheets - Australian Pale Ale - Lord Nelson Brewery Hotel
28. Cloud Catcher - Australian Pale Ale - Stone and Wood Brewing Co
29. Karma Citra - IPA (Specialty) - Feral Brewing Company
30. Atomic - American Pale Ale - Gage Roads Brewing Co
31. Coffee Ramjet 2016 - Wood-Aged Beer - Boatrocker Brewing Co - NEW
32. Tusk – Nov 2016 - IPA (Specialty) - Feral Brewing Company - NEW
33. Nail Red - American Amber Ale - Nail Brewing
34. Ramjet 2016 - Wood-Aged Beer - Boatrocker Brewing Co - NEW
35. Dark - Dark Mild - White Rabbit Brewery
36. Summer Ale - Blonde Ale - Mountain Goat Beer
37. Wild Yak - Australian Pale Ale - Yak Ales - NEW
38. Steam Ale - California Common - Mountain Goat Beer
39. Kosciuszko Pale Ale - Australian Pale Ale - Kosciuszko Brewing Company
40. Grizz - American Amber Ale - 2 Brothers Brewery
41. Small Ale - IPA (Specialty) - Colonial Brewing Company
42. Dog Days - American Wheat - Little Creatures
43. Footscray Ale - American Pale Ale - West City Brewing
44. Spearhead - Australian Pale Ale - Cricketers Arms
45. Vanilla Milk Stout - Sweet Stout - Thirsty Crow
46. Modus Pale - American Pale Ale - Modus Operandi Brewing Co
47. Furphy Refreshing Ale - Kölsch - Little Creatures
48. American Amber Ale - American Amber Ale - 4 Pines Brewing Co
49. Nail VPA - American Pale Ale - Nail Brewing
50. Californicator - American IPA - Big Shed Brewing
51. Freshie Salt & Pepper - Gose - Nomad Brewing Co
52. Mt Tennent Pale Ale - American Pale Ale - Pact Beer Co
53. Fat Yak - American Pale Ale - Yak Ales
54. Kung Foo - Pale Lager - 2 Brothers Brewery
55. KRUSH! - American Pale Ale - KAIJU! Beer - NEW
56. Windjammer - American IPA - Green Beacon Brewing Co
57. Reginald - American IPA - Blackman's Brewery
58. Pale Ale - American Pale Ale - Hawkers Beer
59. Session Ale - Australian Pale Ale - Mismatch Brewing Company 60. Calypso - Pale Ale (American-style) - Odyssey Craft Brewing Co.
61. 8BiT - American IPA - Stockade Brew Co - NEW
62. Hop Thief 8 - American Pale Ale - James Squire - NEW
63. The Chop - American IPA - Hop Nation Brewing Co - NEW
64. Sunset Ale - American Amber Ale - Two Birds Brewing 65. IPA - American IPA - Little Creatures
66. Rogers' Beer - American Amber Ale - Little Creatures
67. Watermelon Warhead - Berliner Weisse - Feral Brewing Company
68. Hop Culture - American IPA - Mornington Peninsula Brewery - NEW
69. Miss Pinky - Soured Fruit Beer - Boatrocker Brewing Co
70. Bright Ale - Blonde Ale - Little Creatures
71. Sly Fox - American Pale Ale - Feral Brewing Company
72. Hop Thief 7 - American Pale Ale - James Squire
73. Praline - Belgian Specialty Ale - La Sirène Brewing
74. Copy Cat - American IPA - Mash Brewing
75. Elsie The Milk Stout - Sweet Stout - Batch Brewing Co
76. Fancy Pants - American Amber Ale - Mountain Goat Beer
77. The Fox - Vienna-style Lager - Rabbit & Spaghetti Brewing Co.
78. Growler - American Brown Ale - 2 Brothers Brewery
79. IPA - American IPA - Hawkers Beer
80. Peanut Brittle Gose - Gose - Bacchus Brewing Co
81. Rare Breed: Pulped Fiction Blood Orange IPA - Double IPA - Mountain Goat Beer - NEW
82. Yenda Pale Ale - Australian Pale Ale - Australian Beer Co
83. Garden Ale - Australian Pale Ale - Stone and Wood Brewing Co
84. Hazelnut Brown - Brown Ale (UK-style) - Bad Shepherd
85. Bling Bling - Double IPA - Bridge Road Brewers
86. Beach Ale - Blonde Ale - Odyssey Craft Brewing Co. - NEW
87. Mornington Pale - American Pale Ale - Mornington Peninsula Brewery
88. Fred - IPA (American-style) - Murray's Craft Brewing Co
89. Imperial IPA - IPA (Specialty) - 4 Pines Brewing Co - NEW
90. F-Yeah - American Pale Ale - Big Shed Brewing
91. Session IPA - American IPA - Modus Operandi Brewing Co - NEW
92. Bling - American IPA - Bridge Road Brewers
93. Project #22: Bert (The Royal Albert Collab) - Australian Pale Ale - Colonial Brewing Company - NEW
94. Sourpuss - Berliner Weisse - Wayward Brewing Company
95. B.F.H. (Barrel Fermented Hog) - American IPA - Feral Brewing Company
96. 28 - American Pale Ale - Burleigh Brewing Company
97. Thanks Captain Obvious - American IPA - BrewCult
98. ALT Brown - American Brown Ale - Balter - NEW
99. The Chancer - Blonde Ale - James Squire
100. Hopsmith - American IPA - Akasha Brewing Co


NEW - First brewed in 2016
---