Last year we ran the 2016 Australian Craft Beer Survey. It was a massive success. You can view the results of the survey here .
Over 6,500 craft beer drinkers throughout the country took part in the study, and best of all the results were made available to the industry to help organisations that operate within it.
It was a huge win for all involved. Breweries got to know more about their customers, while the media had some actual statistics that could be talked about relating to craft beer.
The results were used by a range of organisations including being featured in documents of beer festivals looking for sponsors, used by breweries as part of their business planning and discussed by the Craft Beer Industry Association (CBIA) at their annual conference.
So Why Did We Create The Australian Craft Beer Survey?
8 years ago we (Richard Kelsey and Geoff Huens, the founders of Beer Cartel) worked in market research dreaming of beer. We did projects for the big end of town, including clients such as Telstra, Optus, Commonwealth Bank, ANZ, Westpac and Lion Nathan.
We lived and breathed numbers. But our true passion was craft beer.
And so in 2009 we started Beer Cartel and for the past 8 years have helped thousands of Australians on their journey into the wonderful world of craft beer, by providing access to 1,000s of different beers from Australia and overseas.
In 2016 we decided to give back to the industry that has given us so much, and so the Australian Craft Beer Survey was born.
The concept was to create a research study that could help grow craft beer in Australia. And by making it publicly available, it would help everyone that operates within it, as well as provide interesting information for the wider media.
The aim of the survey was for it to be run at the same time each year, so that changes in the craft beer trends can be measured over time.
And from all of this we can then help grow craft beer in Australia!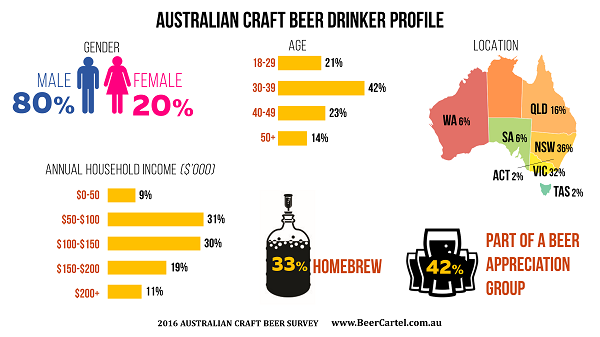 What's in Store for 2017?
As part of the annual study we are going to try to have a theme each year that is relevant to the changes the craft beer industry face.
This year that theme is around the independence. We want to understand if drinkers think it is important to know who owns the brewery that they are drinking, and what they think of the term craft beer. Is it still relevant? Or is it dead ?
How Can I Take Part?
This is the easy part. If you'd like to take the 5 minute survey click here.
The survey is open to anyone that drinks craft beer. As a small thanks for completing the survey you'll be entered in the draw to win $500 to spend on craft beer. Plus you'll also get access to the results at the completion of the research.
If you would like to help support the survey please share this link on your Facebook page. The more people that complete the survey, the more accurate the findings are of craft beer drinkers in Australia.
If you are a business that operates in the craft beer industry please contact Richard Kelsey (0405 251 864, [email protected]) and he can provide you with a unique link to share to your database.
2016 Supporters
Last year the following groups all helped support the survey and made it the huge success it was. Thank you to all of you. We can't wait to show you the same list for 2017!
2016 Media Coverage
Below is just some of the media coverage the survey received. Hopefully for 2017 this only grows further.
Feral voted favourite craft brewery
Feral Voted Australia's Best Brewery
Feral Brewery voted Australia's best
A Sydney View: 2016 Australian Craft Beer Survey
Beer Survey has a Gender Lesson
Australia's best craft brewery revealed
Swan Valley's Feral Brewery takes out top spot on national craft beer poll
Pub News: Beer Survey Insights
Feral Brewing voted Australia's best craft brewery
Australian Craft Beer Survey sees Feral voted as Australia's best brewery
2016 Australian Craft Beer Survey Results
Beer Cartel Surveys 6,500 Australian Craft Beer Drinkers

The survey has now closed - thanks to the 17,000 Australian craft beer drinkers that took part. You can see the full results here.

---