Posted by Richard Kelsey on 30th Aug 2017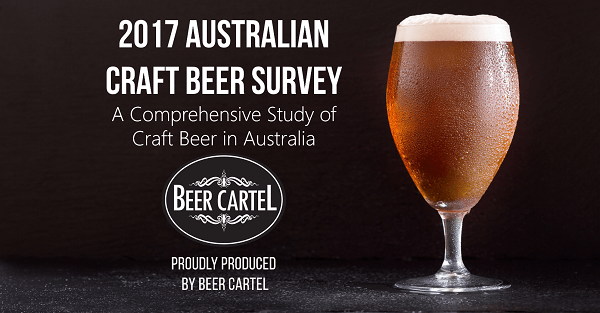 The 2017 Australian Craft Beer Survey by Beer Cartel is the largest, publicly available, study of Australian craft beer drinking trends. It follows on from the 2016 version of the same study.
This year's survey received widespread support across the industry. In total over 17,000 craft beer drinkers took part.
Craft beer is the only segment of the Australian beer market which is in continuous growth, with overall consumption of beer in decline. The data that follows provides an extremely accurate birds-eye view of this young and exciting industry.
A prize of $500 of craft beer was offered as incentive to take part in the research.
Key findings from the research include:
- Brewery ownership is important: 64% want to know who owns the beer they're drinking.
- There is a strong preference for craft beer from independently owned Australian breweries: 99% are happy to buy craft beer from an independent Australian owned brewery. In comparison just 23% are happy to buy craft beer from a large multi-national company and 32% from super market owned brands.
- There is strong interest for a seal to identify whether a beer is from an independent Australian brewery: 82% indicated that an independent brewers seal would have a medium to large impact on the craft beer that they purchase.
- Pirate Life is Australia's best craft brewery: voted number one by Australian craft beer drinkers, ahead of Feral Brewing which took out the top position in last year's study.
- Pale Ale reigns as Australia's most consumed craft beer style: Pale Ale is enjoyed by 92% of craft beer drinkers Australia-wide.
The following is an outline of findings from the research.
The Spotlight on Independence
As part of the Australian Craft Beer Survey each year we seek to shine the spotlight on an issue of importance to the industry and its consumers. This year that spotlight was firmly focused on the issue of ownership. Does it matter, and what impact does ownership have on craft beer?
Attitudes to Ownership

For the majority of craft beer drinkers (64%), knowing who owns the beer they're drinking is important.
Craft beer is an artisanal product that is 'hand crafted' using the best ingredients available. It is not mass produced and has a sense of origin; a small brewery that people can visit, meet the brewer and try the beers. Ownership appears to matter because it is part of the story that is unique to each individual craft brewery. It is part of the brewery's heritage; being owned by real people, rather than a corporate giant.
Consumers have a Large Appetite for Craft Beer from Australian Independent Breweries
Willingness to Buy 'Craft Beer' by Ownership Type
Overwhelmingly people are happy to buy beer from Australian independent breweries (99%), as well as gypsy brewers (those who brew their beers at someone else's brewery, 85%).
However, when it comes to craft beer brands produced for large supermarket owned bottleshops (Dan Murphys, First Choice, Aldi etc) just one-third (32%) are happy to buy these. Similarly for 'craft beers' produced by Australia's multi-national breweries (Lion, Carlton United, Ashai etc) few (23%) were happy to buy 'craft beer' made by these corporations.
For 'craft beer' that is produced solely as a brand most are either reluctant or will look to avoid purchasing (79%).
Click here to see a complete breakdown of results.
An Australian Independent Brewers Seal will Help Consumers Select Independently Owned Craft Beer
Potential Impact of an Australian Independent Brewers Seal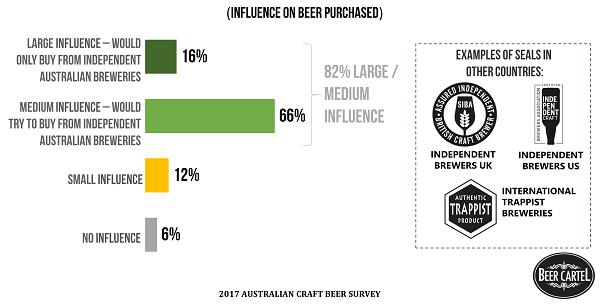 When this years Craft Beer Survey was first created we thought the use of a seal, or trademark, to identify an independent Australian brewery could be worthwhile and so thought we would test this hypothesis. Not long after the survey launch, the American Brewers Association and the Society of Independent Brewers in the United Kingdom, both released independent brewery seals to assist consumers in identifying beer made by independent breweries.
The Australian craft drinking public consider that this too would be a good idea. 82% think an independent brewers seal or mark would have a medium to large impact on their choice of craft beer. This reiterates drinkers willingness to buy beer from an 'Australian independent brewery' and a reluctance to buy beer from a supermarket brand or large corporation that is sold as 'craft beer'.
The Awards
Similar to last year we asked craft beer drinkers for their feedback on some of their favourite aspects of the Australian craft beer scene.
Australia's Best Craft Brewery
Congratulations goes to Pirate Life Brewery, voted Australia's Best Craft Brewery. An amazing effort considering the brewery only started 2 years ago. Pirate Life have followed on from their second place in the 2016 version of this survey to take out the top gong.
The other big mover is Balter which was 9th in last year's survey and has now moved up to 3rd place this year. Full results here.
Australia's Favourite Craft Beer Bar/Pub by State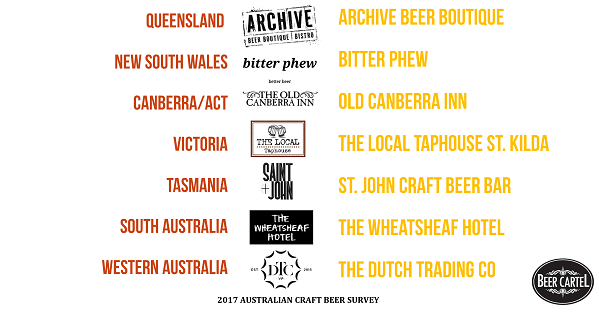 New for 2017, drinkers were asked to nominate their favourite craft beer bar/pub in their state. Congratulations to the winners. Each has and continues to play a significant role in the growth of the Australia craft beer scene.
Thanks also to Now Tapped for the list of Australian bars and pubs. View full results here.
Australia's Favourite Brewery Venue by State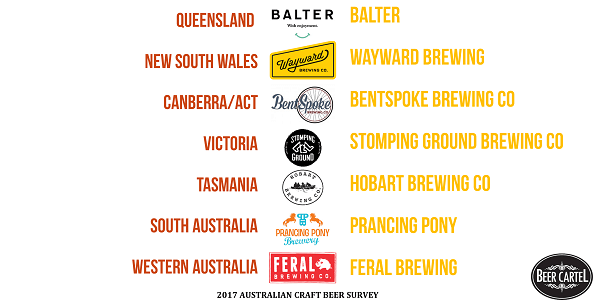 Another new question for 2017, drinkers were asked to select their favourite brewery venue in their state based on its ambience, entertainment, food, and of course, beer selection. Considering the significant number of breweries that now exist in Australia and the almost constant start-up of new breweries those that were selected are true standouts.
Interestingly four of the seven breweries (Balter, Wayward, Stomping Ground and Hobart Brewing Co) are less than 2 years old. View full results here.
Thanks to Craft Beer Reviewer for the list of Australian breweries.
Australia's Favourite Beer Festival (by Attendance)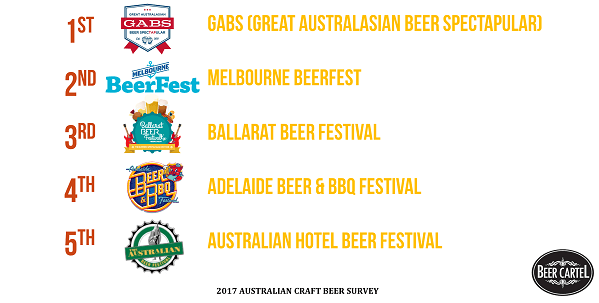 Probably the least surprising of all the results GABS (aka the Great Australasian Spectapular) is Australia's leading craft beer festival by attendance.
The event was first established in 2011 by Steve Jeffares and Guy Greenstone (the duo behind Stomping Ground and The Local Taphouse) and has a unique focus on creating 'one-off beers' as part of its festival offering. Since then it has become a must attend annual fixture on the Australian craft beer calendar. Originating in Melbourne, the festival now also road trips to Sydney and across the ditch to New Zealand.
Australia's Favourite Craft Beer Week (by Attendance)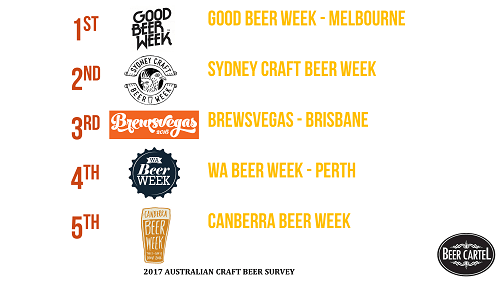 Similar to 2016, Good Beer Week in Melbourne is Australia's most attended craft beer week. Launching at same time as GABS back in 2011 the event incorporates GABS, as well as the Australian International Beer Awards (AIBA), alongside 300 diverse and innovative events across Melbourne and Victoria.
Australia's Favourite Craft Beer News/Blogs (by Usage)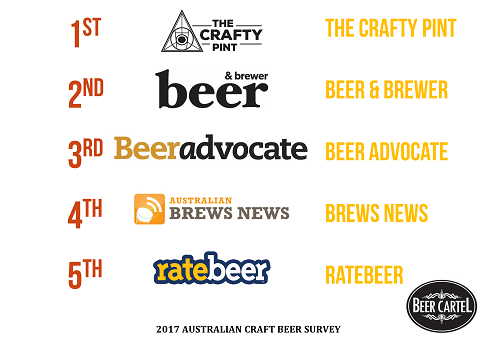 When it comes to craft beer journalism The Crafty Pint has again shown it is the leading publication for beer news in Australia. With a constant focus on new breweries, venues, beers and events it is a one stop shop for staying up to date with everything that is happening on the Australian craft beer landscape. View full results here.
Australia's Favourite Beer Apps (by Usage)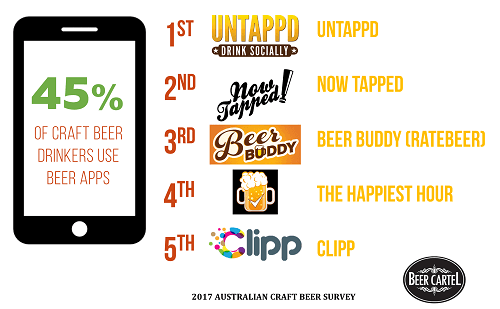 Craft beer is often a spawning ground for technology, with many breweries started by people with an engineering, science or IT background. As a result it is not surprising that almost half of Australian craft beer drinkers (45%) use mobile beer apps. Similar to 2016, Untappd is the most used beer app in Australia.
The Statistics
Australia's Most Consumed Beer Styles
The main beer styles consumed by craft beer drinkers are relatively unchanged compared to 2016. Pale Ale remains the most consumed, while IPA is the overall favourite. View full results here.
Weekly Spend on Beer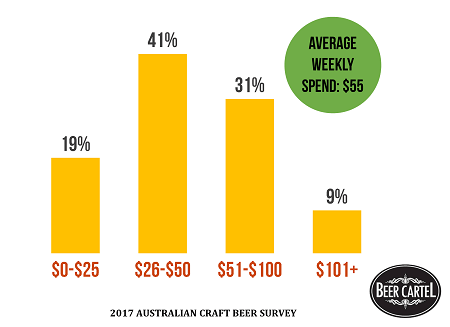 Average weekly spend on beer is consistent with 2016 ($55 vs $56 in 2016). Most spend between $26-$100 in total on beer a week (via bars, bottleshops, restaurants and breweries).
Craft Beer Visitation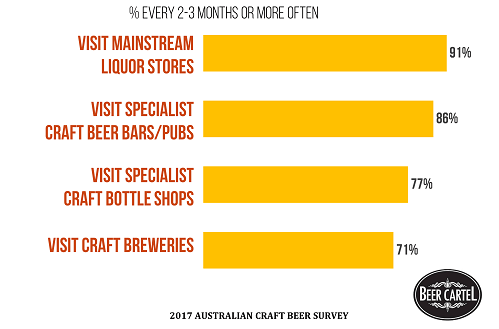 With the prevalence and dominance of mainstream liquor stores in Australia, it is little wonder that most (91%), visit a mainstream store every 2-3 months or more often.
Overall visitation of craft breweries (every 2-3 months or more often) has increased significantly (71% in 2017 vs 61% in 2016).
Attitudes to Craft Beer
It is always a fantastic result when 95% of craft beer drinkers think the quality of Australian craft beer is improving.
A continued focus by new and existing breweries on creating consistent, quality brews, alongside ingredient innovations in hops, malts, yeast and water will advance the quality of Australian craft beer even further.
Almost all craft beer drinkers (94%) are seeking exciting new beers to try. While this means overall brand loyalty is low, it does provide brewers with the opportunity to experiment and have fun creating new brews for consumers to try.

As the world of beer becomes more complex and nuanced, it makes sense consumers are interested in increasing their beer knowledge. Be it learning about different styles, flavour profiles, matching of beer and food, or brewing processes, there is a huge amount of knowledge that can be taught.

In our 2016 study just one third (34%) indicated they had been on a paid craft beer tour in the past year. Despite this overall number being low, most (84%) are interested in going on a paid craft beer tour. With a number of great craft beer tour operators throughout Australia this segment of the industry is ripe for growth.

Interestingly this same question was asked in 2016. Back then 82% agreed beer tastes better from a glass. In 2017 fewer (73%) are aware of the benefits of drinking beer from a glass.

There has been much talk in the past year about the use of the word 'craft beer'. Brews News wrote about its death, while the Craft Beer Industry Association removed 'craft beer' from their name following a realignment of the association to only include independent brewers (now named the Independent Brewers Association). Despite this bad press 72% still believe 'craft beer' it is a good term for describing beer made by small breweries.
Attitudes to Cans vs Bottles

With the growth of cans in the craft beer industry it made sense to track opinion on preferences between bottles and cans. This particularly important since a large number of new breweries are entering the market with a canned beer offer, either through their own canning line, or the use of a mobile canning facility such as East Coast Canning or Craft Punks.
Interestingly opinions that cans are a better vessel for storing beer are unchanged, however fewer (29% vs 37% in 2016) believe bottles are better, with more shifting to Neutral (46% vs 40% 2016).
The Australian Craft Beer DrinkerProfile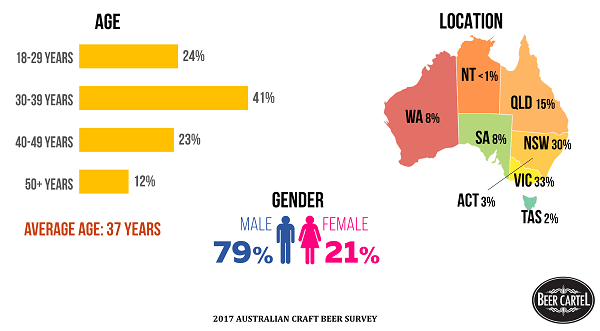 The Australian craft beer drinker demographics remain similar to 2016. The typical drinker is a middle aged male, with most located on the Eastern Seaboard.
Craft Beer Experience
Just 1% of drinkers have tried craft beer for the first time in the past year. For most (90%) they have been drinking craft beer for 3+ years with an average of 7.7 years.
Thanks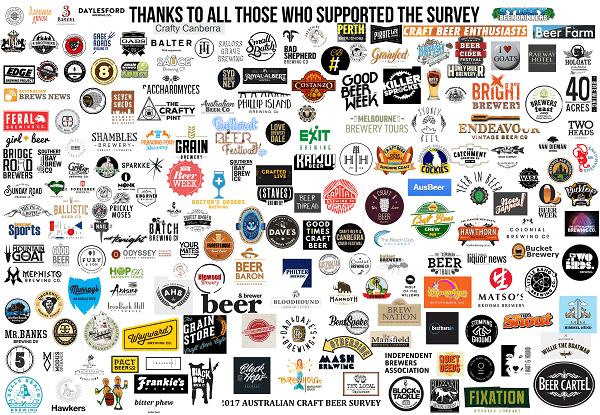 A special thanks goes out to all those who have helped support the 2017 Australian Craft Beer Survey. Without your assistance none of this would have been possible. We raise a glass to each and every one of you, and thank you for being a part of this hugely exciting industry!
Sharing of Content
Please feel free to share any of the information/charts above - charts can be downloaded here. We simply ask that Beer Cartel is attributed, including a link to www.beercartel.com.au when sharing online. High resolution images and interviews are available on request.
About Beer Cartel:
Beer Cartel is Australia's leading craft beer bottle shop, stocking over 1,000 craft beers from Australia and overseas. Purchases can be made through the Beer Cartel website ( www.beercartel.com.au) and its Sydney store.
Media Contact:
Richard Kelsey
Phone: 0405 251 864
Email: [email protected]
Website: www.beercartel.com.au
---