Posted by Richard Kelsey on 13th Sep 2018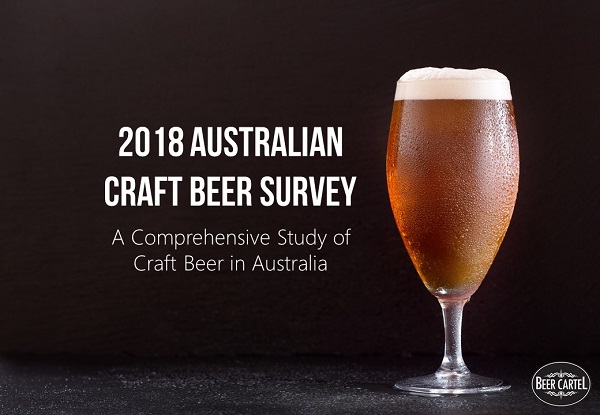 The 2018 Australian Craft Beer Survey by Beer Cartel is the largest, publicly available, study of Australian craft beer drinking trends. It follows on from the 2017 and 2016 version of the same study.
This year's survey received widespread support across the industry. In total over 18,000 Australian craft beer drinkers took part.
Craft beer is the only segment of the Australian beer market which is in continuous growth, with overall consumption of beer and alcohol in decline. The data that follows provides an extremely accurate picture of this young, thriving industry.
A prize of $500 of craft beer was offered as incentive to take part in the research. To see if you were the lucky winner simply scroll to the bottom of this page.
Key findings from the research include:
1. There is a strong desire to support Australian Independent Breweries. Currently one-third of beer drinkers are aware of the Independence Seal which was released by the Independent Brewers Association in May this year (5 months ago). While it is early days, most (83%) of those aware said the seal will have a medium / large impact on their future purchasing behaviour.
2. Two-thirds of drinkers are aware of the buy-out of at least one of the three leading Australian craft breweries in 2017. Over half (56%) of those aware have since reduced or stopped purchasing from these breweries.
3. Balter has been voted Australia's best craft brewery. For a third year in a row, consumers have voted a different brewery as Australia's best.
4. Consumers have a reasonable concept of the taxes that go into the price of beer. Collectively survey participants were able to closely estimate the average amount of tax ($24.56) in an $80 case of craft beer.
5. The majority of craft beer drinkers are on the lookout for new beers to try. On average almost half of all purchases made by Australian craft beer drinkers are for beers they have never previously tried.
6. Few use the Container Deposit Scheme the NSW Government implemented at the end of 2017. Just 14% regularly take their used bottles and cans to a collection point, with the majority (68%) preferring to use kerbside recycling.
The following is an outline of findings from the results.
The Spotlight on Independence
In 2017 a large focus of the survey was on the importance of independent ownership. Sixty four percent said they wanted to know who owned the beer they were drinking, with a strong desire to buy from Australian independent breweries, as opposed to breweries owned by a large multi-national.
A hypothetical question was asked about the potential introduction of an Australian seal of independence, to help consumers identify independently owned Australian craft breweries. It was as if we had foretold the future – shortly after the launch of the 2017 Australian Craft Beer Survey the United States and the United Kingdom Brewers Associations both released their own Independence Seals.
Now in 2018 the Australian Independent Brewers Association (IBA) has released their own Independence Seal which was officially launched in May.
Awareness of Independent Brewers Association Independence Seal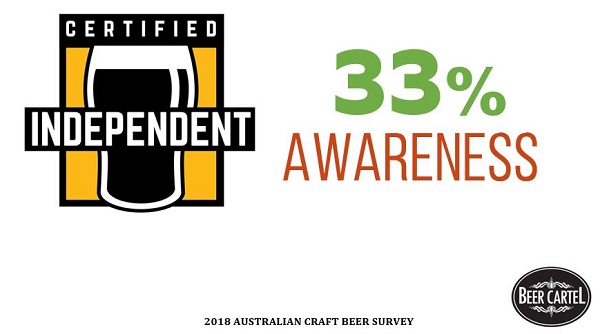 In just 5 months the IBA has achieved awareness of the seal amongst a third of Australian Craft Beer Drinkers. It is a fantastic starting point from which to leverage their campaign to encourage consumers to buy independent.
Likely Impact of an Australian Independent Brewers Seal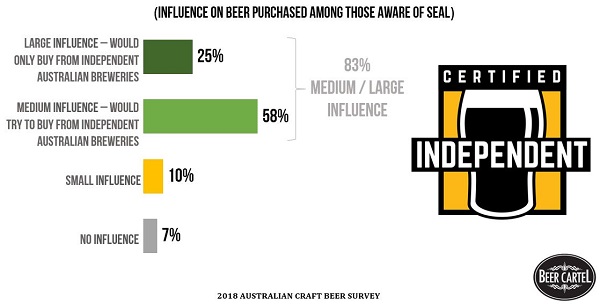 The seal has huge potential to dramatically change the beers consumers buy; 83% of consumers aware of the seal said it was likely to have a medium to large impact on their beer purchases.
Awareness of Buy-Outs of Australia's Leading Craft Breweries in 2017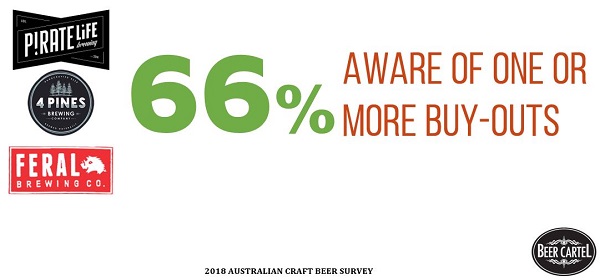 The influence and desire to purchase from independently owned breweries is further reflected in the purchasing habits of consumers post buy-out.
In 2017 three of Australia's leading craft breweries were acquired by a large multi-national; Pirate Life and 4 Pines were purchased by AB InBev, while Feral Brewing was acquired by Coca Cola.
Two-thirds (66%), of craft beer drinkers were aware of one or more of these buy-outs.
Impact of Buy-Outs on Purchasing Behaviour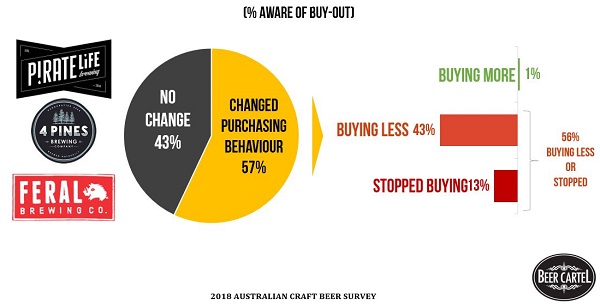 Of those aware of one or more of the buy-outs, 57% had changed their purchase habits post take over. Most are now buying less (43%) or have stopped purchasing from these breweries (13%).
It is important to note that there have been no other changes to these three breweries other than their ownership; the brewery itself and the people that run the brewery are both unchanged.
A major concern voiced by consumers following the buy-outs was that the quality of beer from each would suffer – to date there has been no noticeable changes. Rather, innovation and development has occurred; 4 Pines now has their beer on the Manly ferries as well as at the Sydney Cricket Ground, Pirate Life has been able to forge ahead with their Hindmarsh brewery, while Feral continues to brew its core range plus tasty limited release brews.
New South Wales Container Deposit Scheme
One area of focus for this year's survey was understanding the usage of the NSW Container Deposit Scheme which was introduced in December 2017. It has attempted to replicate the South Australian container deposit scheme, with some significant differences:
Breweries must pay the container deposit levy prior to sales they make, rather than based on actual redemptions, which can significantly impact cash flow.
Bottles/cans must be returned undamaged and the barcode must be able to be read – in South Australia the only requirement is that the refund statement is clearly visible.
The scheme has been introduced in a state with a well-established kerbside recycling program already in place.
With container deposit schemes to be rolled out in Queensland (in November 2018) and Western Australia in 2020 we thought it was important to understand redemption rates as well as reasons for non-use.
Container Deposit Scheme: South Australia vs New South Wales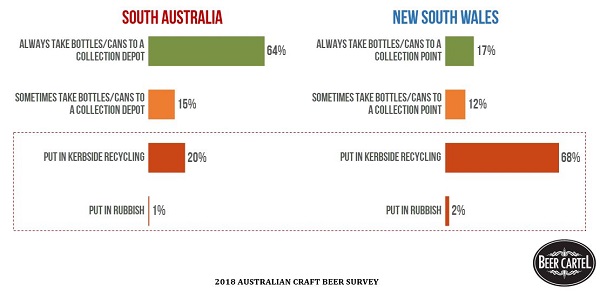 In stark contrast to South Australia where 64% always take their bottles and cans to a collection point, just 17% do so in New South Wales. For most kerbside recycling is used (68%), with an additional 12% using both kerbside recycling and collection points.
Reasons Container Deposit Points Aren't Used in New South Wales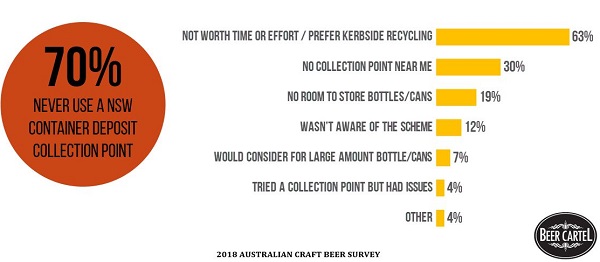 For 70% of drinkers in NSW who have not used a container deposit point, the main reason for non-use is that it is not worth the time/effort to go to, with a general preference for kerbside recycling (63%).
Further, a lack of collection points (30%) and an inability to store bottles/cans (19%) suggests that for most kerbside recycling is a more viable proposition.
Beer & Taxes
For 2018 Australian Craft Beer Survey we sought to determine if consumers understood the taxes applied to beer.
To test this, drinkers were asked to estimate the total taxes including duty and GST that are applied to a 5% ABV case of beer that costs $80.
Estimated Tax on $80 Case of Beer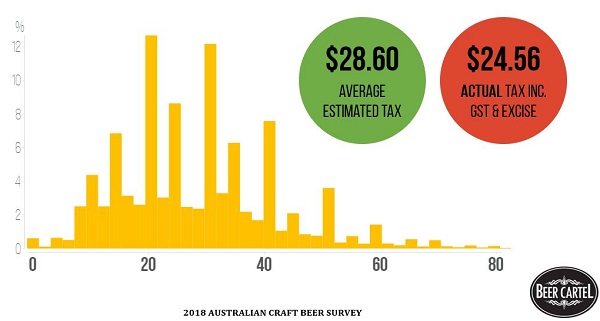 Surprisingly, drinkers were found to have a reasonable understanding of the taxes that went into an $80 case. While the actual taxes applied amounted to $24.56, the average estimated tax by consumers was $28.60 – $4.04 higher.
It is very telling that drinkers understand over a quarter of the money they spend on a case of craft beer goes directly to the Government (this increases to almost 40% on a $55 case). Hopefully further excise reform on beer can reduce this to help make craft beer more accessible.
Packaged Beer
Another area of focus requested by breweries for this year's survey was looking at packaging. This related to preferences for cans vs bottles, preferred bottle sizes and purchase behaviours.
Before looking at how craft beer drinkers purchase, it was important to first understand what people are buying. In 2017 we found the vast majority (94%), were on the lookout for new and interesting beers to try. For 2018 we sought to quantify this, what proportion of beer purchases were for new beers?
Purchasing of New Beer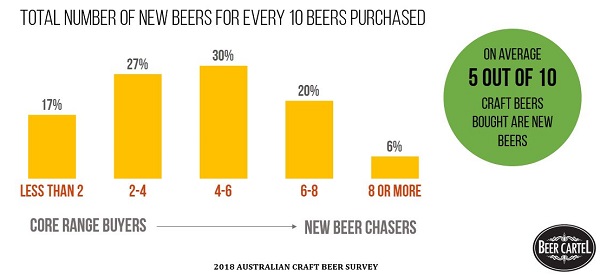 On average, five out of every ten beers purchased by consumers are for previously untried beers.
This is quite staggering and speaks volumes as to why many breweries have an extensive seasonal / limited release program. Considering the Australian beer landscape prior to 2012 with little access to beers outside of mainstream lines, it is amazing how quickly consumer habits have evolved.
Purchase Habits by Packaging Type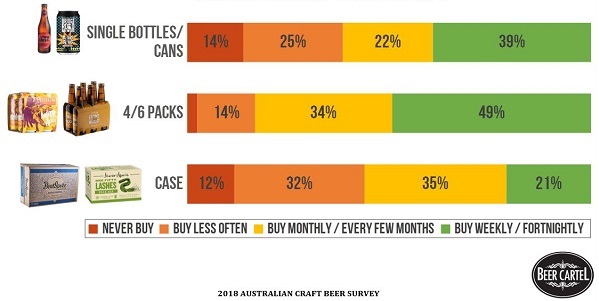 Weekly purchases by consumers are largely focused to singles (39%) and 4/6 packs (49%). For most, cases are a less regular purchase.
Packaging Type Most Often Purchased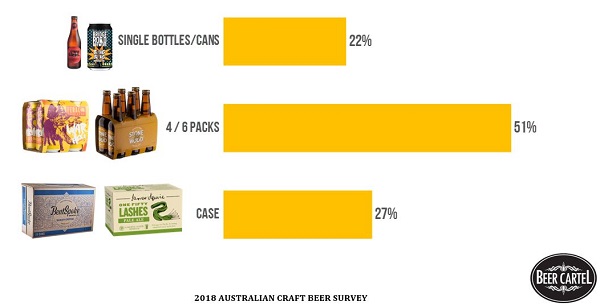 For half (51%), their main packaging format for craft beer purchases is 4/6 packs. For the remainder, consumption is split between singles (22%) and cases (27%).
Purchase Habits by Bottle Size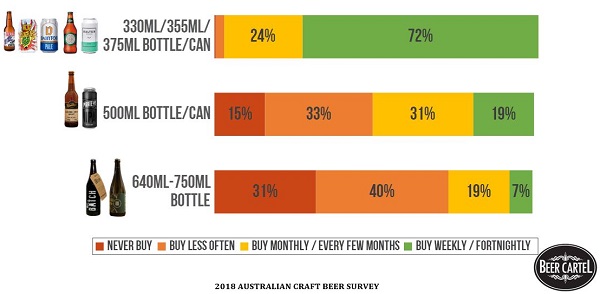 A source of debate for some breweries has been the vessel size their beers are produced in. For example, some breweries only focus on 500ml bottles/cans rather than smaller format alternatives.
With the Australian beer landscape largely made up of smaller format vessels (330ml-375ml bottles/cans) it is of little surprise that most consumers buy these on a weekly/fortnightly basis (72%).
What is interesting however is the lack of appetite for larger format vessels. Only half purchase a 500ml bottle/can every few months or more often, while just 26% purchase 640ml-750ml bottles.
This finding does have strong implications for the market moving forward and is likely to see even more beers produced in smaller format cans and bottles. From a retailer perspective the much higher purchase frequency for smaller bottles/cans makes a lot of sense. Consumers are trying new beers at a great rate – by providing these in a smaller format it means each new beer is a smaller investment, plus there is lower perceived risk if they don't like it.
Preferred Limited Release Format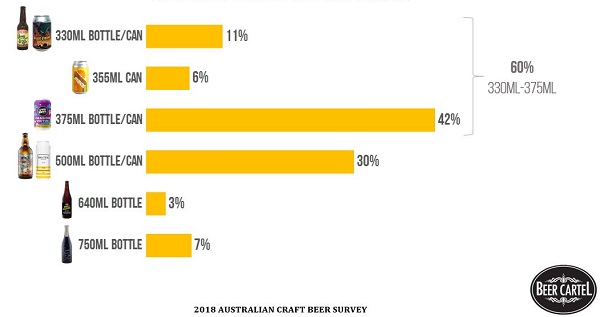 In line with consumer purchasing behaviour, preference for limited release beers is for smaller formats, particularly 375ml.
Preference for Cans vs Bottles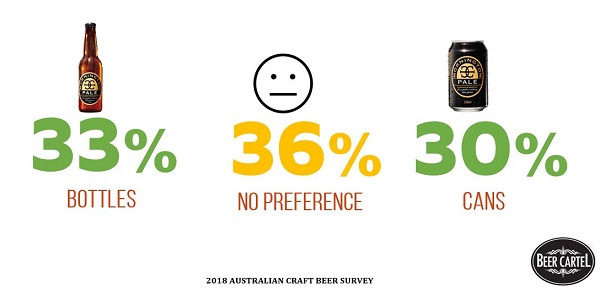 With the continued increase of craft beer in cans it is no surprise that preference for cans is almost at parity with bottles. A third of drinkers are happy with either bottles or cans.
Attitudes to Craft Beer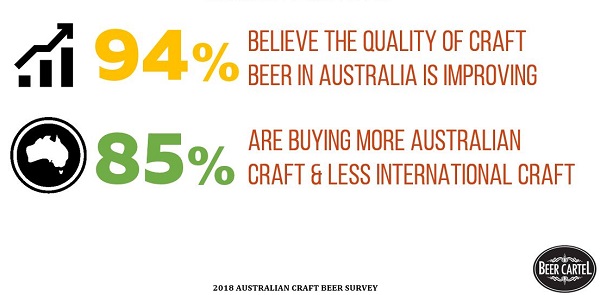 Similar to 2017, almost all beer drinkers (94%), believe the quality of craft beer is improving. This is a fantastic statistic for the future growth of craft beer in Australia.
As Australia's craft beer quality has improved, there has been a huge shift in preferences for Australian craft beer over imported product. As a result, it is of no surprise that 85% have said they're now buying more Australian beer in place of imported beer.
Craft Beer + Food/Dining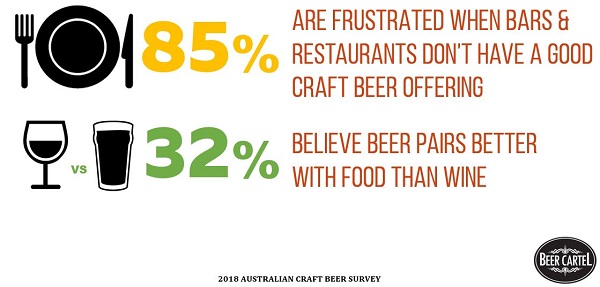 A poor craft beer offering at venues is often a source of frustration for the majority (85%) of craft beer drinkers. Just one third (32%) believe that beer pairs better with food than wine. With beer having a wider flavour profile than wine there exists opportunities for venues to focus on matching the flavour profile of beers to dishes on their menu.
Attitudes to Craft Beer

For most drinkers (79%), craft beer is their number one alcohol beverage.
The Awards
Consistent with the past two years, we asked craft beer drinkers for their favourites of the Australian Craft Beer Scene.
Australia's Best Craft Brewery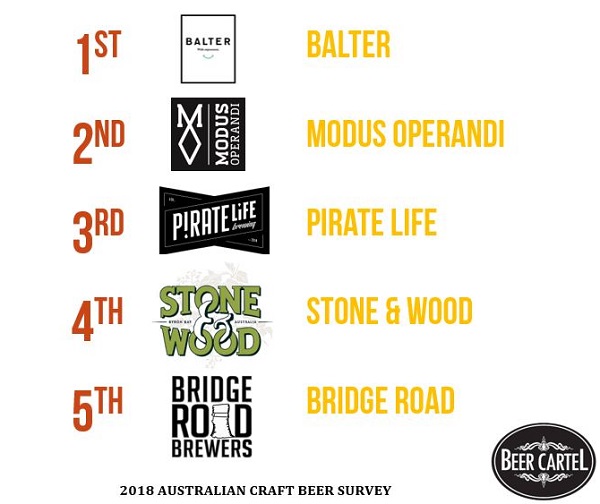 A huge congratulations goes to Balter who were rated this year's best Australian craft brewery. They have achieved the massive task in less than 3 years, having moved from 9 th place in 2016, to taking out the top gong in 2018 and have become a mainstay of the Australian craft beer scene.
Their success has been at the expense of Feral and Pirate Life who were crowned champion brewery in 2016 and 2017 respectively. Consumer sentiment post buy-out has appeared to impact the rankings of both; Feral dropping to 8 th and Pirate Life to 3rd.
The other big mover has been Modus Operandi who rose from 6 th in 2017 to 2nd this year.
Australia's Favourite Craft Beer Bar/Pub by State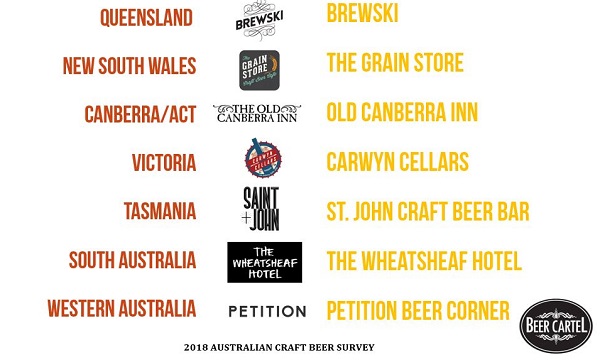 Similar to the shifts for Australia's top brewery there has been a shake-up in the favourite craft beer bar/pub for a number of states.
Special mention must go to the Grain Store in Newcastle and St John Craft Beer Bar in Launceston, who took out champion craft beer bar/pub in New South Wales and Tasmania respectively. An amazing effort and the only two states where the champion bar was located outside the capital city.
Australia's Favourite Brewery Venue by State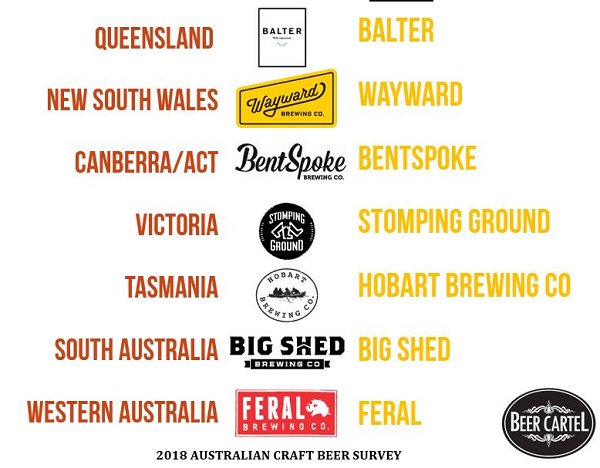 The favourite brewery venue in each state is almost completely unchanged compared to 2017. Big Shed in South Australia is the only new entry to the leader board, taking over from Prancing Pony.
Australia's Favourite Beer Festival (By Attendance)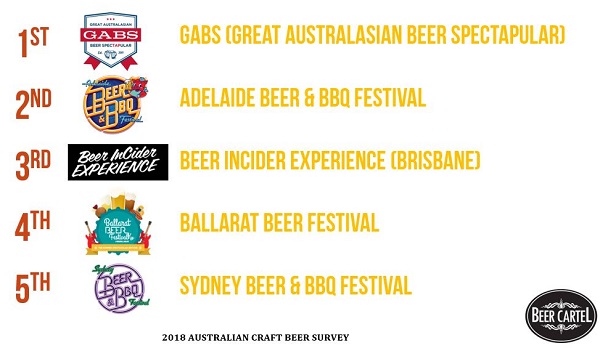 GABS (Great Australian Beer Spectapular) continues to be Australia's leading craft beer festival by a substantial margin.
Australia's Favourite Craft Beer Week (By Attendance)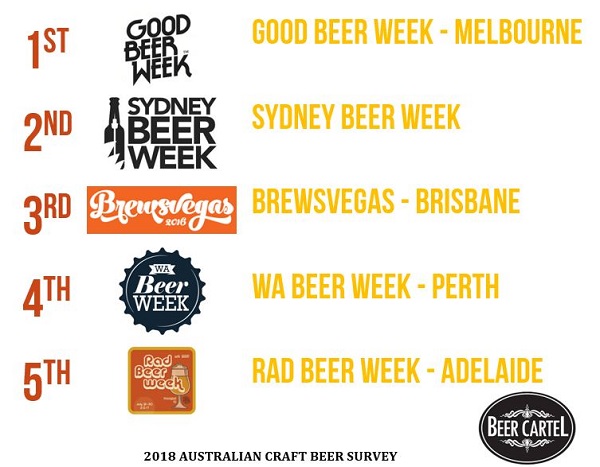 Good Beer Week remains Australia's most attended craft beer week.
Australia's Favourite Craft Beer News/Blogs (By Usage)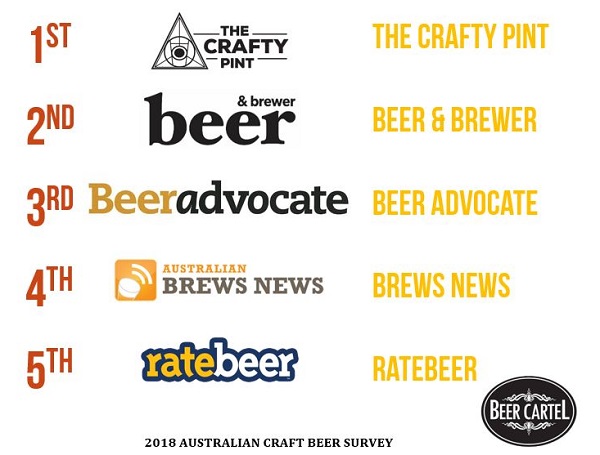 In line with 2016 and 2017 the Crafty Pint is Australia's favourite craft beer news site.
Australia's Favourite Beer Apps (By Usage)
Just under half of all Australian craft beer drinkers use a beer app with Untappd the most widely used.
The Stats
Australia's Most Consumed Beer Styles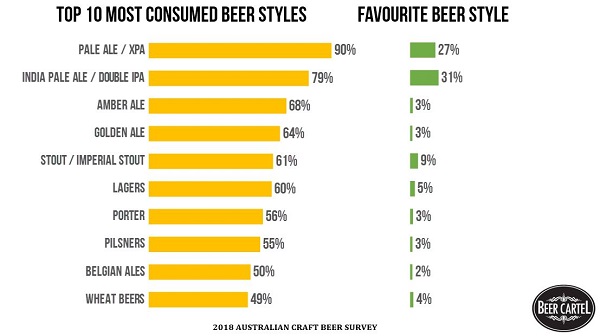 Similar to 2016 and 2017 Pale Ale is the most consumed style, with IPA the favourite.
Craft Beer Experience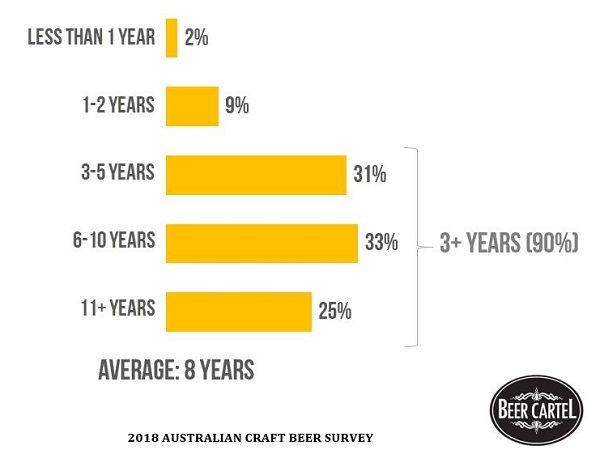 In line with 2017 most participants have been drinking craft beer for 3 or more years.
Weekly Spend on Beer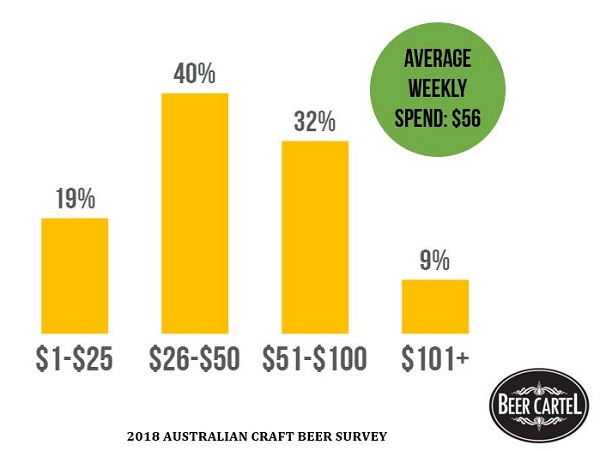 Weekly spend on craft beer almost exactly parallels 2017 figures, with average weekly spend increasing by $1 to $56. Most spend between $26-$100 in total on beer a week (via bars, bottle shops, restaurants and breweries).
Craft Beer Visitation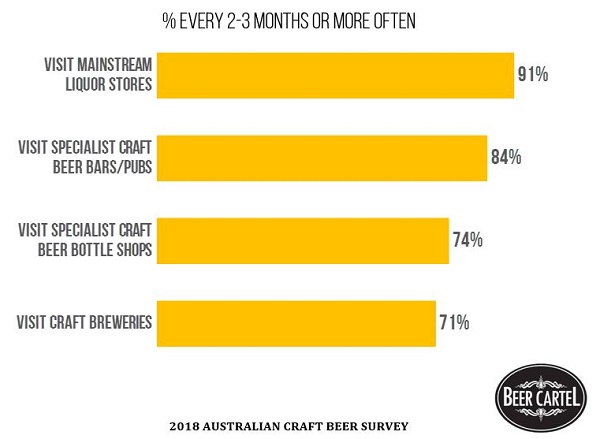 Engagement with craft beer venues remains in line with the 2017 Australia Craft Beer Survey.
The Australian Craft Beer Drinker Profile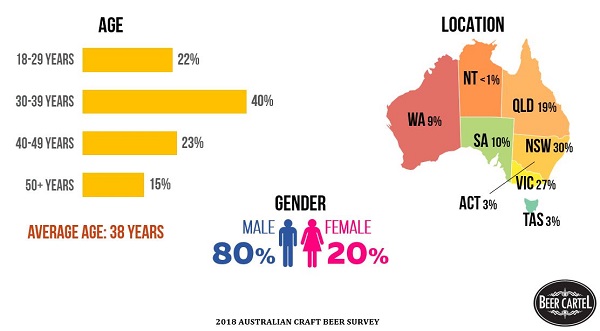 For the 2018 Australian Craft Beer Survey the survey participants almost exactly matched the previous two years participants with slightly lower representation from Victoria, in place of greater representation from Queensland.
Thanks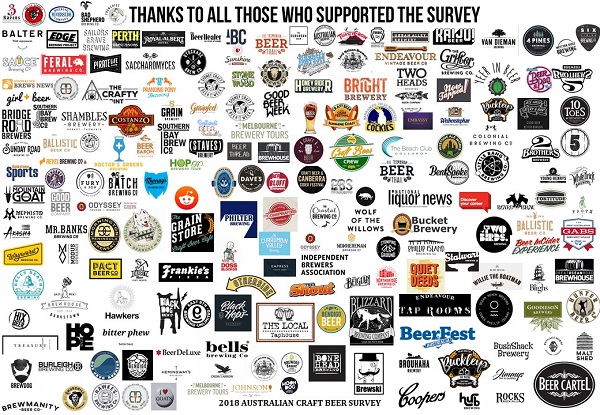 A special thanks goes out to all those who have helped support the 2018 Australian Craft Beer Survey. Without your assistance none of this would have been possible. We raise a glass to each and every one of you, and thank you for being a part of this hugely exciting industry!
Sharing of Content
Please feel free to share any of the information/charts above - charts can be downloaded here. We simply ask that Beer Cartel is attributed, including a link to www.beercartel.com.au when sharing online. High resolution images and interviews are available on request.
About Beer Cartel:
Beer Cartel is Australia's leading craft beer bottle shop, stocking over 1,000 craft beers from Australia and overseas. Purchases can be made through the Beer Cartel website (www.beercartel.com.au) and its Sydney store.
Media Contact:
Richard Kelsey
Phone: 0405 251 864
Email: [email protected]
Website: www.beercartel.com.au
Winners of $500 of Craft Beer Announced
Congratulations to Steve Tibb & Nicolas Mcinerney winners of $500 to spend on craft beer.
---