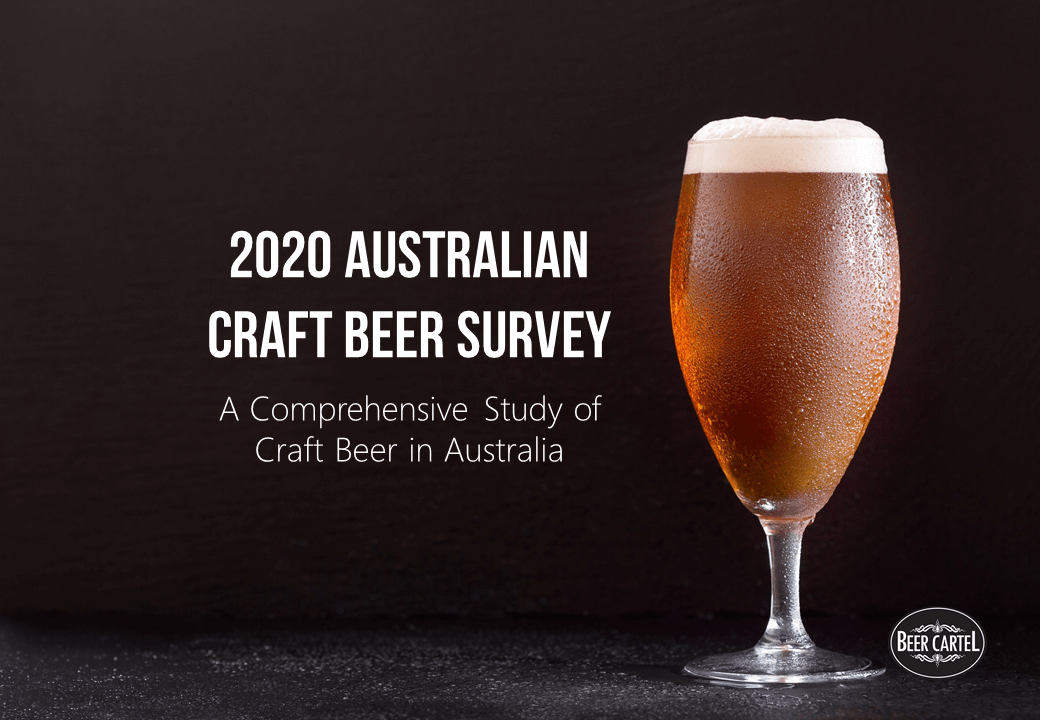 The 2020 Australian Craft Beer Survey by Beer Cartel is the largest study of Australian craft beer drinking trends. It follows on from the 2016, 2017, 2018 and 2019 versions of the same study.
This year's survey received widespread support across the industry. In total just under 17,000 Australian craft beer drinkers took part.
The survey itself was run between July-September 2020 and contained a range of questions relating to what was called 'Peak COVID-19' (April to May 2020) and 'After Peak' COVID-19 (anytime after this). Over 200 different organisations helped to promote the survey ensuring that the survey was an accurate cross section of Australian craft beer drinkers.
The data that follows helps to provide a great picture of the growing Australian craft beer market.
A prize of $500 of craft beer was offered as incentive to take part in the research. To see if you were the lucky winner scroll to the bottom.
Key findings from the research include:
1. Black Hops has been voted Australia's best craft brewery. For the first time consumers have chosen Black Hops Brewery on Queensland's Gold Coast as Australia's best, followed by Balter and Bentspoke.
2. COVID-19 has significantly increased online purchasing. Prior to COVID-19 38% of drinkers had purchased beer online in the last year. This has increased significantly with 53% of all respondents having purchased beer online since April this year.
3. Online purchasing has been strongly driven by Australian brewery websites and Australian craft beer speciality websites. Brewery website purchasing has doubled from 14% in 2019 to 28% in 2020. Similarly, purchasing from craft beer speciality websites have increased from 19% in 2019 to 27% in 2020.
4. Consumers have shown strong support for Australian independent craft breweries through COVID-19. Drinkers indicated since COVID-19 they were purchasing less Australian and international mainstream beer while local and Australian craft beer purchases increased. This coincides with increased awareness in the Independent Seal (60% awareness) and 93% of respondents agreeing that 'Australian breweries need our support more than ever'.
5. COVID-19 appears to have impacted consumers very differently. While for some their weekly spend on beer during COVID-19 has dropped, for a proportion, particularly during COVID-19 peak (April - May 2020), spend actually increased as people began stocking up on beer at home similar to other commodities.
Impact Of COVID-19 On Purchasing Behaviour
With the world at large being so dramatically affected this year by Coronavirus (COVID-19), we thought it only appropriate to have a big focus on this and the impact COVID-19 has had on the purchasing behaviour of Australian craft beer drinkers.
Note: questions and wording was created prior to Melbourne going into it's second wave of lockdowns (July 9th).
2020 Change To Weekly Spend On Beer During Peak COVID-19 (Apr-May '20)*

Amid the peak of COVID-19 lockdowns in Australia during Apr-May 2020, there were three very different reactions to purchase behaviour. Over a quarter (27%) said their weekly spend decreased, while 40% indicated their weekly spend increased, with the remaining 33% unchanged in their spend.
The net impact of these changes ( Total Increased less Total Decreased) meant there was positive 13% increase in overall spend.
*Unchanged not shown (33%).
Beer Stocks At Home During Peak COVID-19 (Apr-May '20)*

During the peak lockdown period, similar to other commodities, there was an increase in beer stocked at home. This reflected a concern for the potential dwindling of supply and the increased spend on beer (previous chart above).
*Unchanged not shown (38%).
Note: Does not indicate consumption has increased (see ABA industry report on Impact of COVID-19 on Industry).
2020 Change To Weekly Spend On Beer After Peak COVID-19 (After Apr-May '20)*

After the peak of COVID-19 (post April-May 2020), there were still changes in weekly spend with 25% increasing their spend and 21% decreasing this for a net change of a 4% increase.
*Unchanged not shown (54%).
Changes To Types Of Beer Purchased Since COVID-19 Began*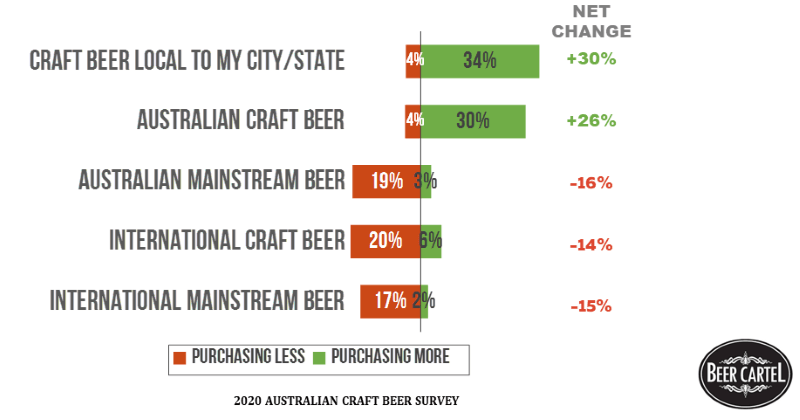 A number of craft beer drinkers appear to have changed their beer purchasing behaviour during COVID-19, increasing purchases of Australian craft beer in place of other beer types (Australian/International mainstream and International craft beer).
*Unchanged not shown.
Shopping Frequency by Store Type (Pre COVID-19)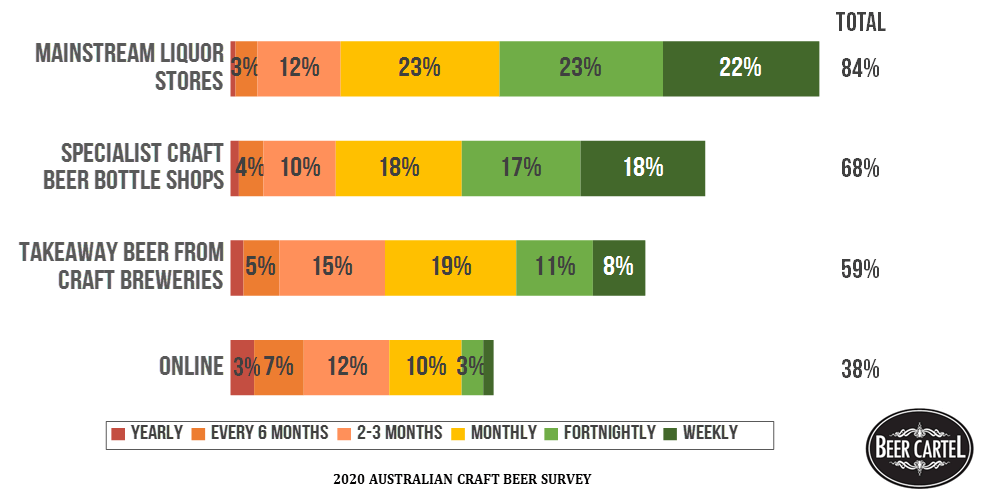 Prior to COVID-19 the majority of off-premise purchases were made through mainstream liquor stores with 38% purchasing annually or more often online.
Shopping Frequency By Store Type Peak COVID-19 (Apr-May '20)*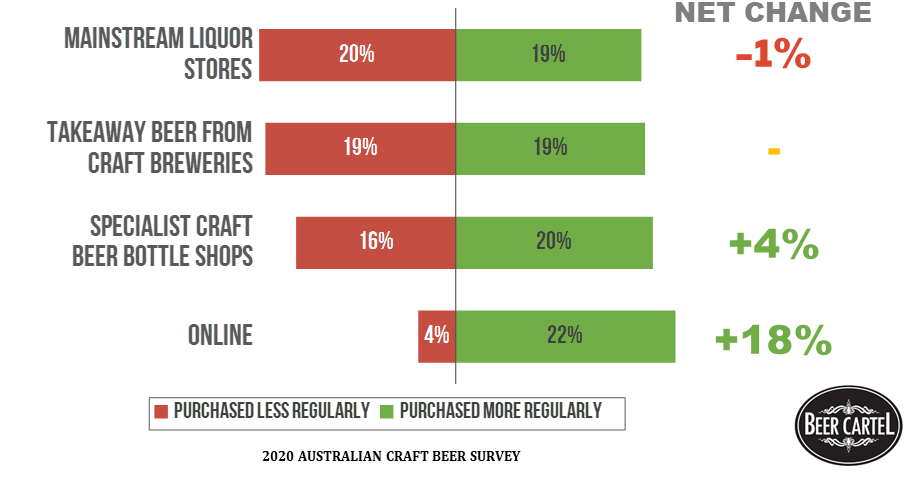 During peak COVID-19 there was a significant uptake of purchasing beer online which is consistent with other retail categories during the pandemic.
Despite a proportion of drinkers saying they were purchasing from stores and craft breweries less regularly, overall changes were relatively neutral with a similar proportion increasing the regularity of their purchasing.
*Unchanged not shown.
Shopping Frequency By Store Type After COVID-19 Peak (After Apr-May '20)*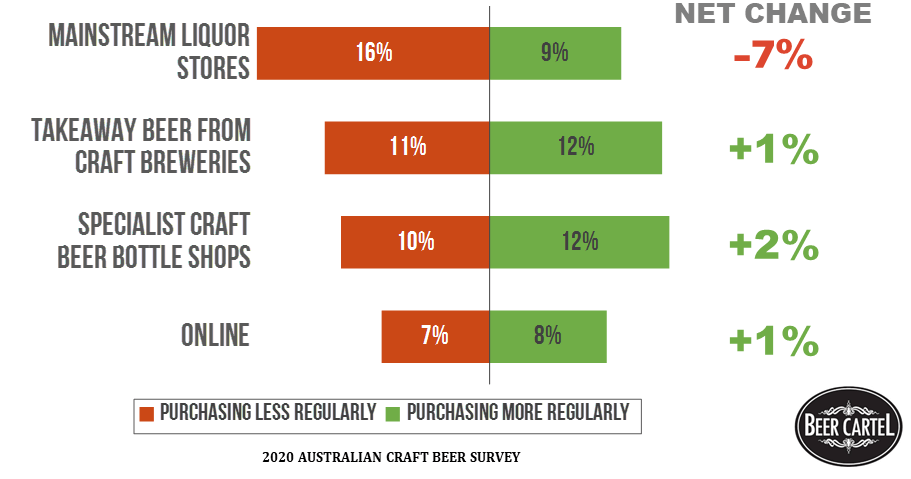 In a post-peak COVID-19 period (after Apr-May 20) purchasing from mainstream stores has moved lower overall with other channels increasing slightly.
*Unchanged not shown.
Online Store Types Purchased From Since COVID-19 Began
A large proportion (53%) have purchased craft beer online since COVID-19 began. This is significantly higher that the 38% who had purchased online in the last year prior to COVID-19. The main store types purchased from include Australian craft brewery websites (28%) and Australian craft beer specialty websites (27%).
Key Factors To Where Beer Was Purchased During Peak COVID-19 (Apr-May '20)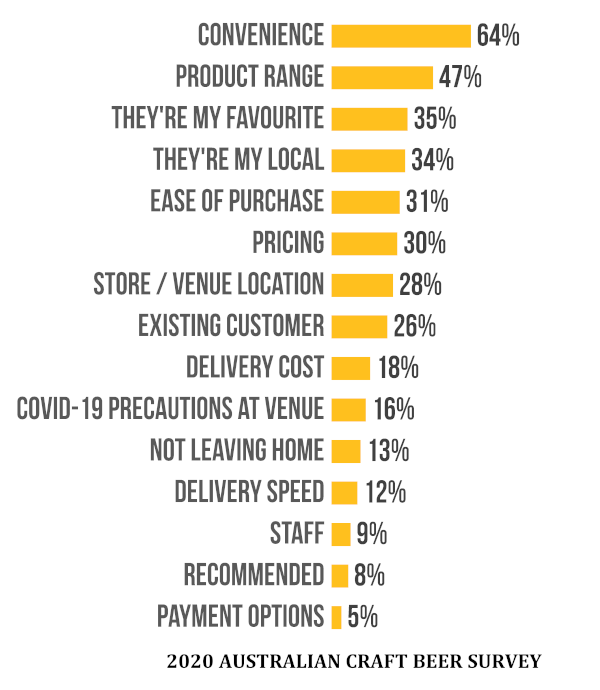 The main reasons for where people purchased craft beer during the peak of COVID-19 were based largely around convenience (64%), product range (47%), being their favourite (35%) and being local (34%).
Takeaway Beer Purchases By Venue Type Since COVID-19 Began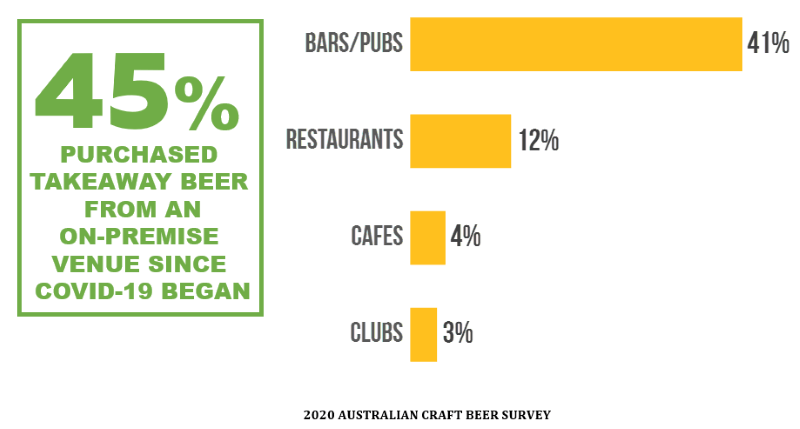 While online purchasing (previous chart above) increased dramatically over the course of COVID-19 one other area that saw high purchase behaviour was buying takeaway beer from on premise venues. This was permitted in many states as a result of short term changes to licensing. 45% of craft beer drinkers indicated they had purchased takeaway beer from an on-premise venue, with this done most widely from Bars/Pubs (41%).
Expected Date At Which Going Back To Bars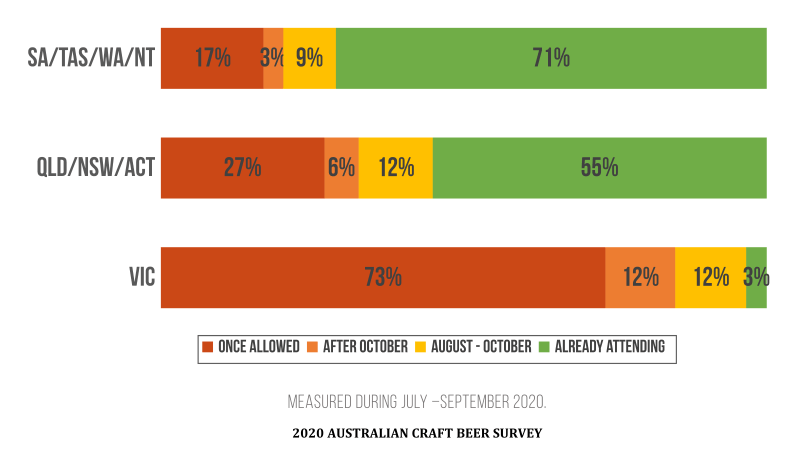 A large proportion in SA / TAS / WA / NT were already attending bars at the time of the survey (Jul-Sep 20), with a small proportion showing a reluctance to attend until a later date. For Victoria, most expected they'll start visiting bars as soon as they're allowed (at the time of survey Victoria was going through a second lockdown).
Expected Date At Which Going Back To Breweries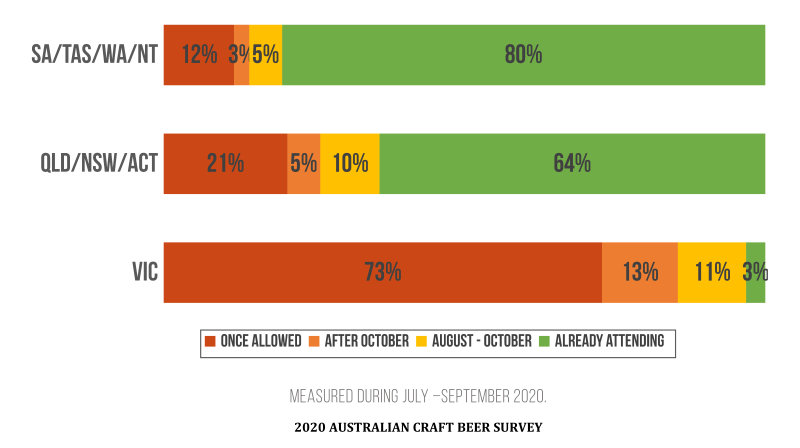 The expected date of returning to breweries is similar to bars; more in SA / TAS / NT / WA are already attending, with a slightly lower proportion in QLD / NSW / ACT and those in Victoria waiting to be allowed.
Expected Date At Which Going Back To Beer Festivals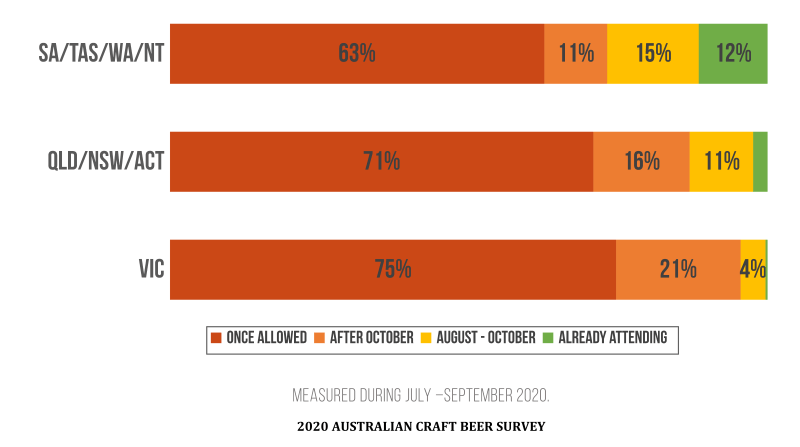 In most states drinkers are waiting to be allowed to once more attend craft beer festivals.
Alcohol Free & Gluten Free Beer
A new area of focus for the 2020 survey was looking at consumption of alcohol free and gluten reduced/gluten free beer. Both are trending beer niches driven from a health/consumption perspective.
Consumption of Alcohol Free & Gluten Free Beer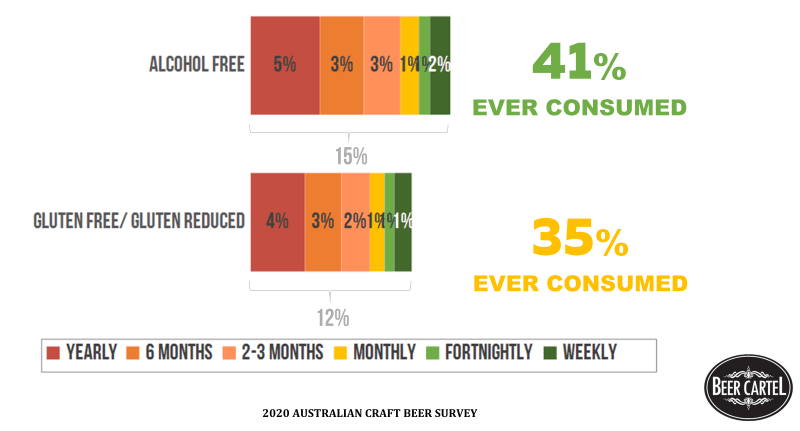 Over 41% have ever consumed Alcohol Free beer with 15% of these having done so in the past 12 months and 2% weekly.
In comparison 35% have ever tried Gluten Free/Gluten Reduced beer with 12% drinking these yearly or more often.
Spotlight on Independence
For the past three years a large focus of the survey has been on the importance of independent ownership, with a strong preference expressed by craft beer drinkers to purchase from Australian independent breweries as opposed to those owned by a large multi-national company.
Awareness of Independent Brewers Association Independent Seal
In May 2018 the Australian Independent Brewers Association (IBA) released their Independent Seal to help consumers better identify those breweries that are independent.
This year 60% indicated they were aware of the seal, a significant increase on the figure for the same measure in 2019 (41%) and 2018 (33%).
Impact of an Australian Independent Brewers Seal
Among those aware of the seal 61% said it has had a medium to large impact on their beer purchasing behaviour. This is a 3 point increase from 2019 (58%).
What the Term 'Independent Beer' Means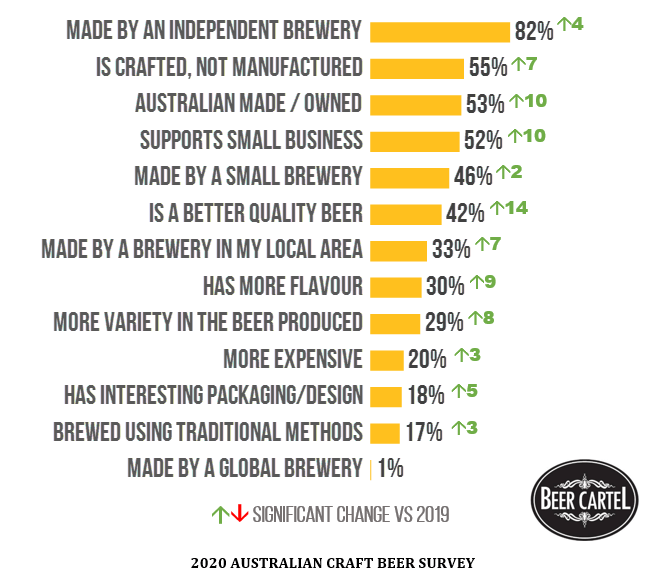 Across most descriptors regarding the term 'Independent Beer' there have been increases. While being 'made by an Independent brewery' is most cited (82%), 'Australian made/owned' (53%), 'supports small business' (52%) and 'is a better quality beer' (42%) have seen the biggest gains in perception.
Note: Response framework provided by the Independent Brewers Association (IBA).
Attitudes to Craft Beer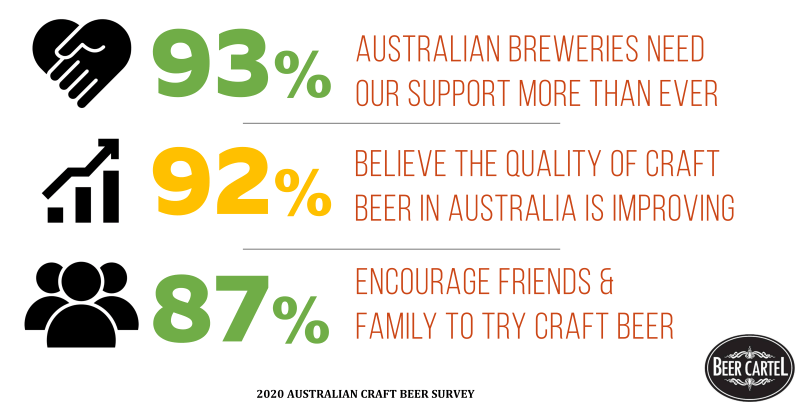 There is a strong perception that now more than ever, Australian craft breweries need our help.
The Awards
Australia's Best Craft Brewery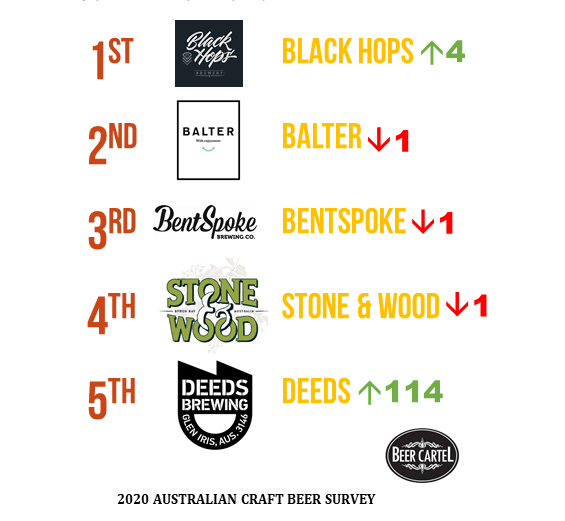 Congratulations goes to Black Hops who for the first time has taken out the title of Australia's Best Craft Brewery. Balter who for the last two years has taken out the top spot has dropped to second with Bentspoke and Stone & Wood each shifting down one place. Deeds has been the big mover jumping up 114 spots in the last year to 5th place.
Australia's Favourite Craft Beer Bar/Pub by State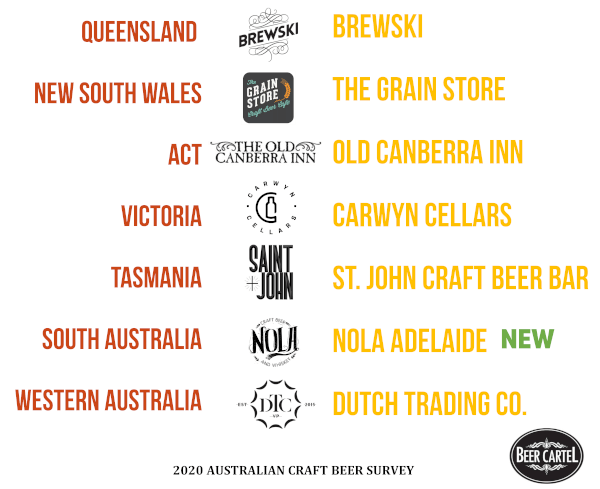 Amongst craft beer venues there has been no change in Best Craft Beer Bar / Pub for all states except South Australia, where NOLA Adelaide has moved to number one ahead of The Wheatsheaf Hotel.
The Grain Store in Newcastle and Saint John Craft Beer Bar in Launceston are the only two venues which are located outside of the capital city in their state.
Australia's Favourite Brewery Venue by State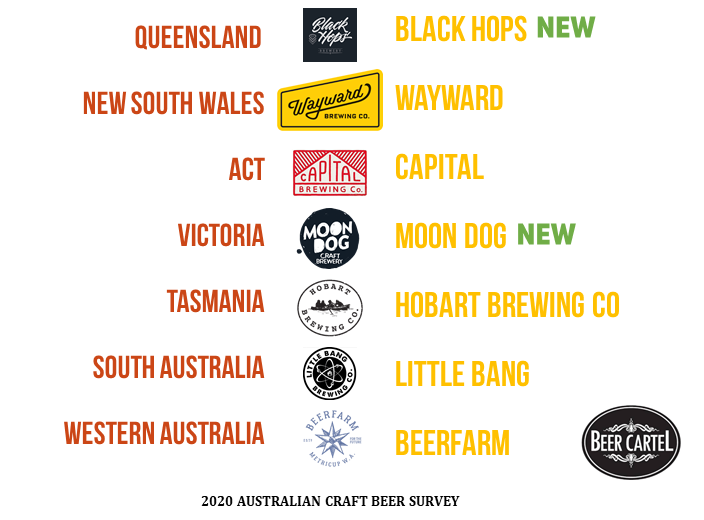 The Best Brewery Venue has seen two changes this year. Black Hops has overtaken Balter as Queensland's best brewery venue, while Moon Dog with their brand new Moon Dog World have overtaken Stomping Ground as the best Victorian venue.
Australia's Favourite Craft Beer News/Blogs (By Readership/Usage)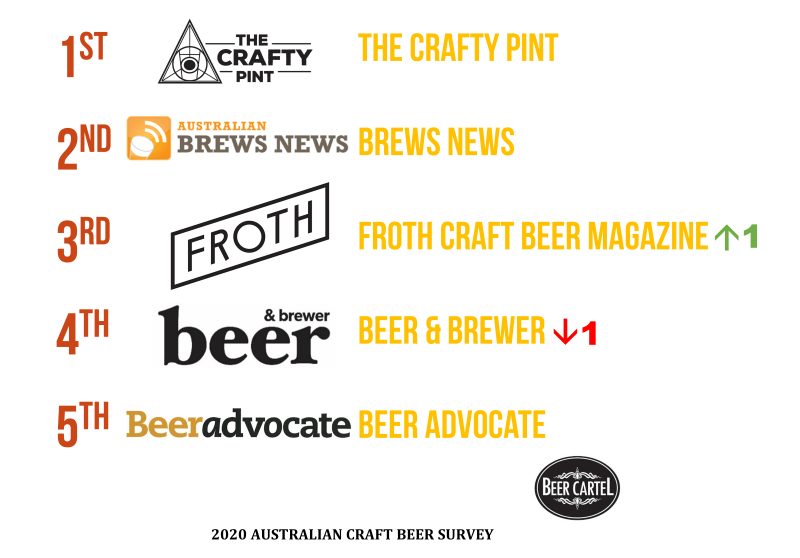 The Crafty Pint continues to be Australia's most read craft beer news site/blog, similar to every year since the survey began. Australian Brews News is second with Froth Craft Beer Magazine moving to 3rd spot.
Australia's Favourite Beer Podcast (By Usage)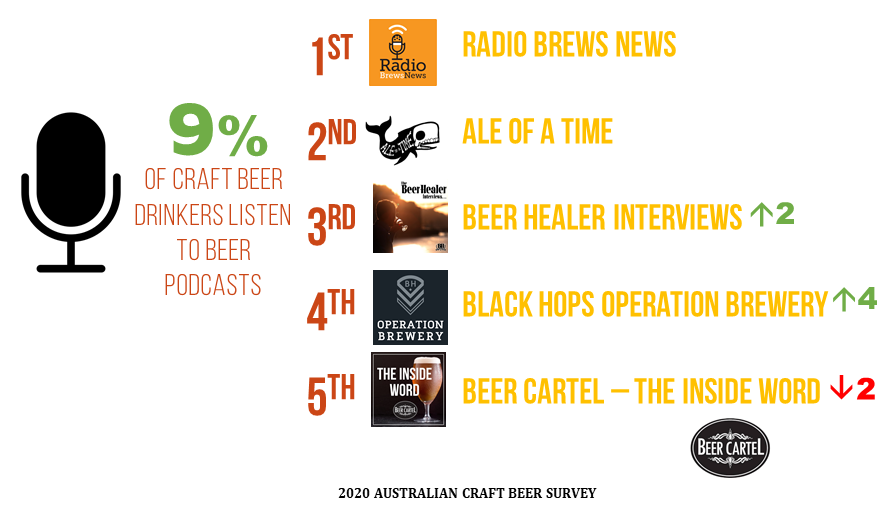 9% of craft beer drinkers listen to podcasts up from 6% in 2019. Radio Brews News is the most listened to podcast followed by Ale of a Time and Beer Healer Interviews.
The Stats
Australia's Most Consumed Beer Styles (Top 10)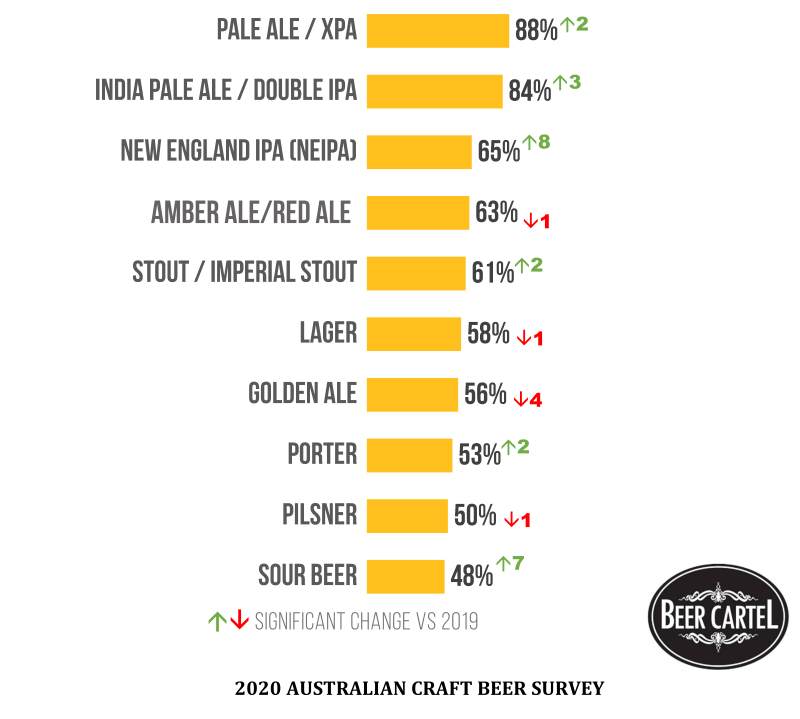 In 2020 New England IPAs (NEIPAs) and sour beers have been the two styles that have seen the biggest gains in overall consumption, growing by 8% and 7% respectively.
Golden Ale is one style that has dropped significantly again. In 2020, 56% said they consumed Golden Ales, down from 70% in 2016.
Pale Ales/XPAs and India Pale Ales/Double IPAs remain Australia's most consumed craft beer styles by a significant margin.
Craft Beer Experience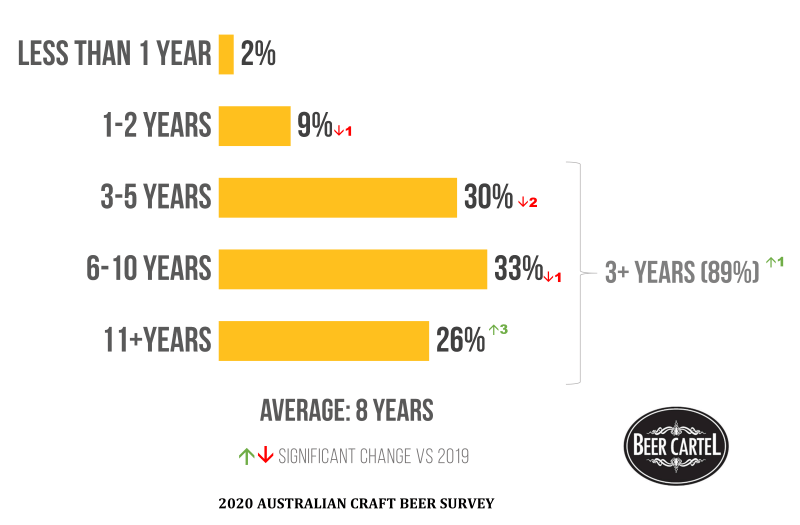 Similar to previous years, on average people have been drinking craft beer for 8 years.
Weekly Spend on Beer (Pre COVID-19)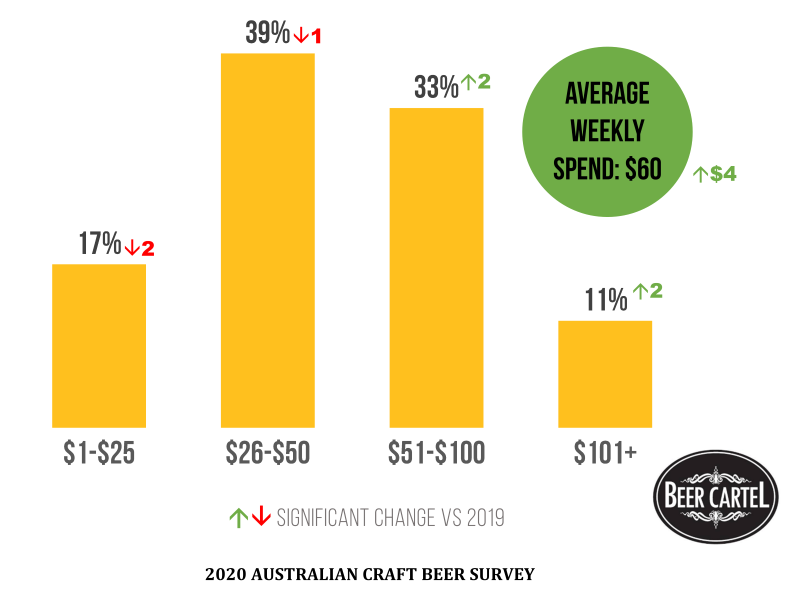 Weekly spend prior to COVID-19 compared to 2019 was slightly higher with the average weekly spend $60, compared to $56 in 2019.
Australian Craft Beer Drinker Profile
The craft beer drinker profile is relatively unchanged with small changes to gender and age.
Thanks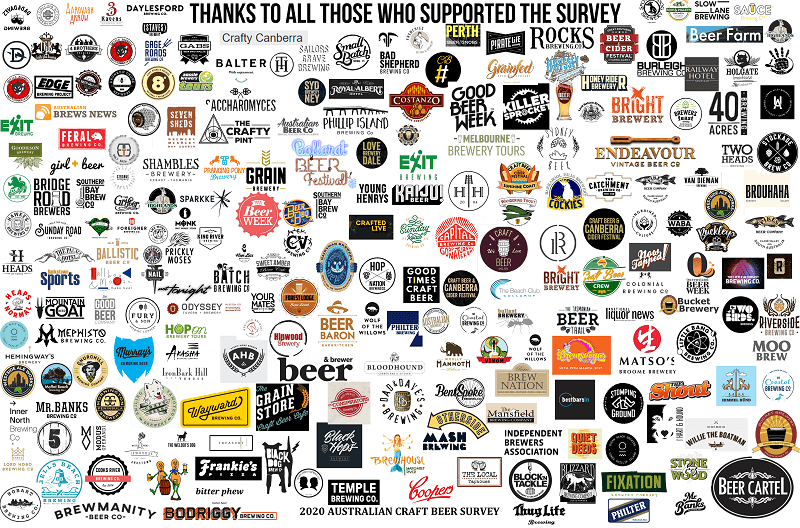 A special thanks goes out to all those who have helped support the 2020 Australian Craft Beer Survey. Without your assistance none of this would have been possible. We raise a glass to each and every one of you, and thank you for being a part of this hugely exciting industry!
Sharing of Content
Please feel free to share any of the information/charts above. We simply ask that Beer Cartel is attributed, including a link to www.beercartel.com.au when sharing online. High resolution images and interviews are available on request.
About Beer Cartel:
Beer Cartel is Australia's leading craft beer bottle shop, stocking over 1,000 craft beers from Australia and overseas. Purchases can be made through the Beer Cartel website www.beercartel.com.au and its Sydney store in Artarmon.
Media Contact:
Richard Kelsey
Phone: 0405 251 864
Email: [email protected]
Website: www.beercartel.com.au
Winner of $500 of Craft Beer
Congratulations to Laurence Judd winner of $500 to spend on craft beer.
---